We sat down with autistic advocate Kathy Isaacs and Wojciech Nadachowski from the national Cooperative Research Centre for Autism to chat about the lack of accessibility standards for neurodiverse users and how technology empowers the autistic community.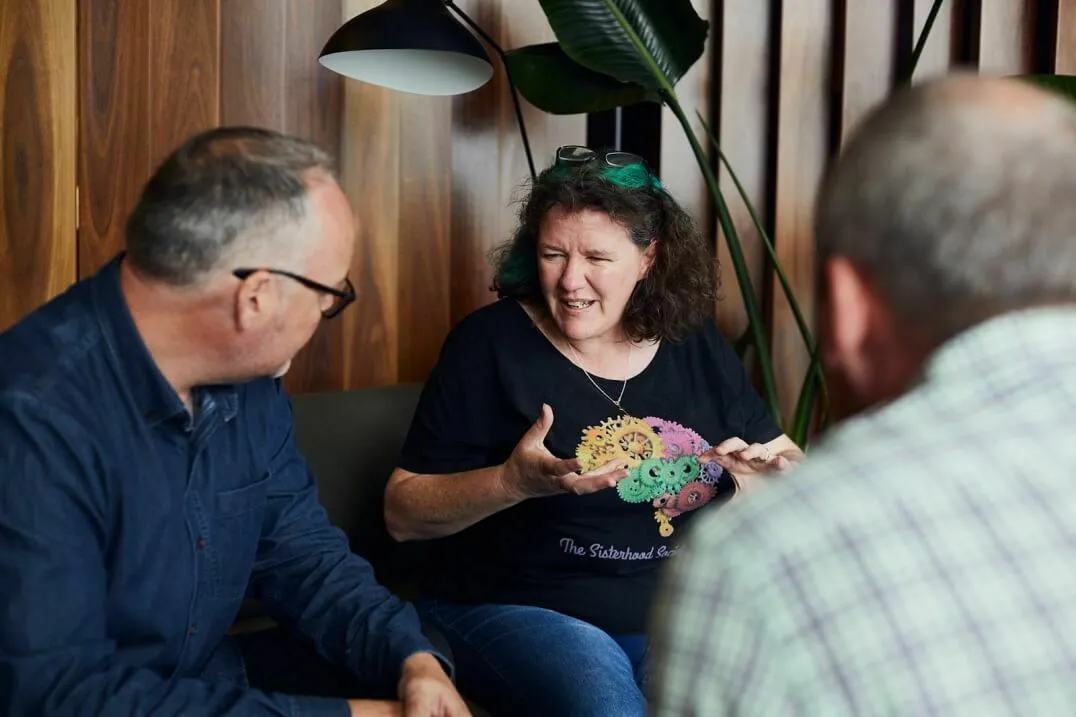 In conversation
Kathy Issacs, Cooperative Research Centre for Autism
Wojciech Nadachowski, Cooperative Research Centre for Autism

Mark Davis, Business Director at Today

Let's start with getting some clarity around the concept of 'neurodiversity'. Can we try to define what it is? How common is the word's usage and how widely accepted is it, for instance, by government?
Kathy: Neurodiversity is a word that describes the spectrum of differences in people's neurology. This includes autism as well as other 'neurodivergences' such as ADD/ADHD, dyslexia, OCD – and 'neurotypical'. Basically, it's stating that 'typical' neurology isn't the 'right' neurology, nor is it a goal to aim for, it's just the most common type of neurology. Differences in neurology are to be expected and aren't necessarily pathological, and that the labels used to describe these differences aren't stigmatising.
The concept of neurodiversity is widely accepted within autistic and other neurodivergent – meaning not neurotypical – communities. On the whole, we don't consider our neurology to be wrong or broken, just different. There is often a strong aversion to this concept among people and groups who perceive autism as a disease or fault in our neurology, and whose purpose is to alleviate, cure or even eliminate autism altogether. Many of us feel this is a threat to our personhood and integrity. Neurodivergence may bring with it some challenges, but it also brings new perspectives and ideas, and we believe humankind needs this diversity.
Wojciech: It's also important to talk about the concept in and of itself, because concepts can be bandied around and someone could be using it differently to somebody else. For some people, in particular autistic people, approaching life from a neurodiverse perspective helps understand established concepts such as 'disability' much better. It's about a spectrum of neurological differences. People who have been using the old, established notion of what constitutes a disability can feel challenged by the idea of neurodiversity. They sometimes think of it almost as a militancy or an opposition.
It goes back to the use of language. In the past, 'disability' referred to an absence – the inability for things to happen, right? So you've got ability, which is positive, and you've got disability, which is negative. We're very used to those words in our everyday language, so it's hard to get away from that black and white concept. Neurodiversity provides a completely different approach: that of a spectrum of abilities.
I think we're seeing the concept of neurodiversity slowly gaining momentum now. It's beginning to break through and we're seeing more and more organisations embrace it.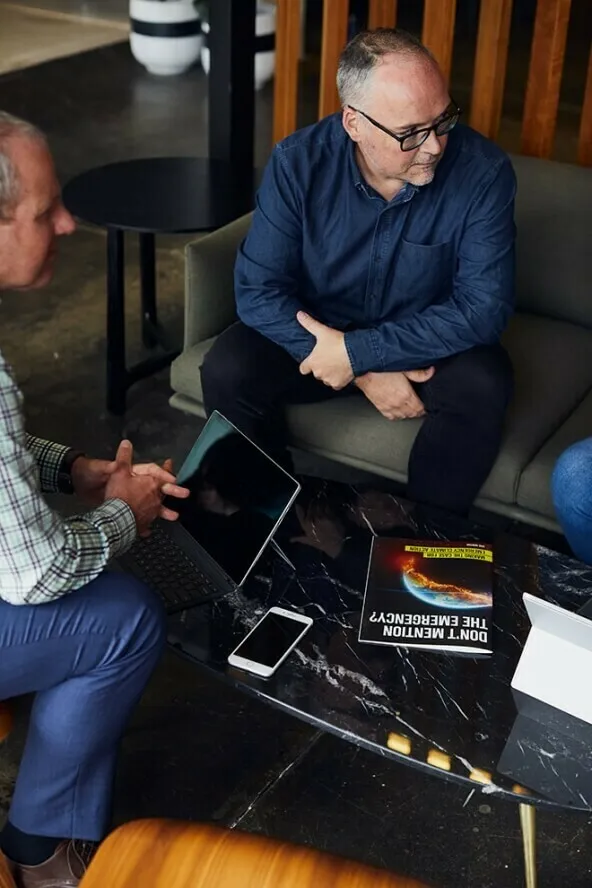 1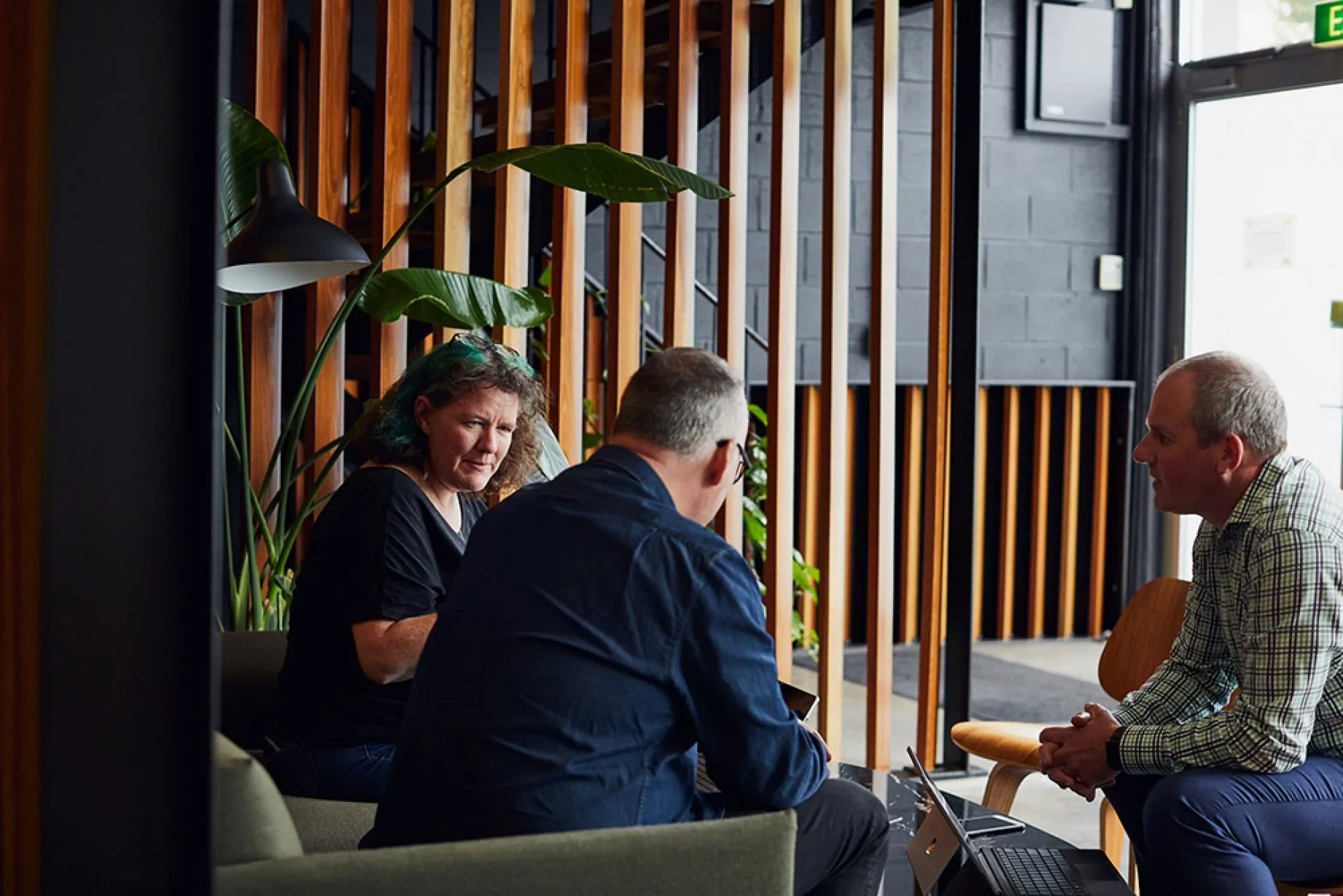 Here at Today, we talk a lot about access to content, data, and new technologies in general. Is there much acknowledgement of what accessibility to digital services looks like under that relatively new paradigm of neurodiversity?
Wojciech: Because neurodiversity can cover such a wide range of individual differences, it's not easy to specify what that translates to in terms of design standards, for example. If we got ten autistic people in a room and asked them about what makes for a good user experience, we'd probably get ten very different perspectives, just like you would if you asked ten non-autistic people.
But to provide an example: if you're looking at an ecommerce site where the goal is to make a purchase, there is a lot of whizzbangery going on. There are various banners, links, and buttons moving around. We probably all get a bit irritated by it, but when someone with, say, some cognitive load issues is trying to navigate that experience they may get easily sidetracked. So if the point of a site is to encourage completing a transaction, there may be self-defeating aspects in the design, because the person ends up being too distracted to buy anything.
Mark: Yeah, I think 'sidetracked' is a good word to describe it.
Wojciech: It's also about how much information there is on any given page and whether there is clear hierarchy. Are there many visuals that supplement the main content? Are the visuals clear? Many websites have ads with photos. Let's imagine there is a photo of two people embracing and looking longingly at each other. Someone with autism might be looking at that wondering 'Why is that photo there? What is the purpose of that image?'
Kathy: Yes, that's a good example – images that aren't clearly related to the subject at hand can be very distracting, not just with regard to banner or inline ads but as part of the sites themselves. While I personally am generally comfortable with abstract connections, if an image is too much of a non sequitur I'll spend far more time thinking about the image than I will about the concept or product. And when I leave the site, I'm unlikely to remember what it was promoting. There are lots of people who find it even more off-putting than I do. If banner ads or any other aspects of the site are moving or flashing, or if it has automatic video clips playing, I'll just back out of the site quickly. It's very hard for me – and for a lot of other autistic people – to cope with too much sensory info at once, because we don't filter it out in the same way. It doesn't become 'background noise' anywhere near as easily as it does for non-autistic people.
If I'm shopping or accessing services online, I just want to know how I get the information I need, and what I need to do to complete my business. A simple, uncluttered design with clear directions and a logical progression – that's what I personally believe makes for a good site.
Mark: There is a lot of potential for essential services – such as banking or grocery shopping for example – to provide easier, more accessible and inclusive experiences online.
Wojciech: Definitely. Shopping at a brick and mortar Coles or Safeway is a pretty overwhelming experience – for anyone. It's one big sensory overload: there's music playing, colours everywhere, things are popping out to get your attention, and there are people everywhere. So something as simple as grocery shopping can be a very difficult experience for someone with autism.
Mark: Yes, we had that exact challenge with our son who's autistic. Moving down a lane in a supermarket aisle would take 45 minutes because he wanted to read every label or product description. We had to kind of move him along which made the whole experience very frustrating and difficult for him.
Wojciech: Yeah, that's why an online alternative could provide a much easier, safer way to get these things done. However, unfortunately, the websites of many of these essential service providers still lack a considerate approach in meeting the needs of neurologically diverse people.
This is partly due to the fact that very little has been done in this space. Our organisation Autism CRC is all about bringing new research and the industry together to create practical outcomes for the community. And it's fair to say that about 95% of that output would involve some sort of digital technology: websites, mobile apps, podcasts, et cetera. So if that's the output, the question is: how well do we understand the digital proclivities of autistic individuals?
Kathy: I'd say the Autism CRC does this quite well overall. They certainly do what I think is the most important thing in this space: they proactively seek the input of autistic adults, not just at one point, but on an ongoing basis. If you're seeking to provide services to a specific group, you need to know the challenges and requirements of that group before you even put the concept on paper, and then keep checking back to make sure you've understood. Having autistic people working alongside you to develop these digital solutions will not only improve the accessibility of the product, but potentially improve uptake by the community, too. Of course, that goes for any specific group you wish to provide services for.
If you're seeking to provide services to a specific group, you need to know the challenges and requirements of that group before you even put the concept on paper, and then keep checking back to make sure you've understood.

Kathy Issacs
Yeah, here at Today, we put a lot of emphasis on having transdisciplinary teams when we work on a client project and include people with lived experience, from different vocations and fields of expertise; the more diverse, the better the outcome. We see that time and again. It's just good design practice. In your opinion, are there specific sites or services that are leading the way or at least are showing promising signs?
Wojciech: I think there are some hopeful signs, specifically coming from larger organisations that have the budget and are more likely to understand and apply Universal Design Principles. Smaller organisations, including in the non-profit sector, and those getting funding from government often work with tight budgets and lack the technical expertise to provide more inclusive experiences.
Kathy: I was going to cite that exact page. To my mind, Universal Design is the basic starting point for creating accessible online services. Make a site accessible to as many people as possible at the outset, and there'll be fewer accessibility problems to fix later on.
Kai: I think for many organisations web accessibility as a concept is still considered a 'nice to have' or something they can add if there is enough money or time left. It's not a starting point or a well-understood basis to build from.
Wojciech: Yeah, although having spent a large part of my professional life in digital agencies, I think it's changed quite a lot. Especially the newer generation of developers are a lot more conscientious about the final output, I think. There is more of an understanding of what digital inclusion means and how that notion needs to be built-in from the ground up. It's kind of upwardly influencing. It's a bottom-up change which is wonderful to see.
Mark: Going beyond just the web experience, have particular technologies made a big difference in the assisted living space? Early on, when we were navigating an approach for my son, we met a lot of non-verbal autistic kids. Technology has a huge impact on the way they communicate.
Wojciech: Over the last ten years, assisted-living technologies have become so much more accessible and inconspicuous. Ten years ago, people who are non-verbal had to carry around a device the size of a typewriter to be able to communicate with others. That was like having a big disability sign stuck to your forehead, right? There has been a lot of progress on that front. Non-verbal people can use these omnipresent end-consumer devices, a smartphone or tablet, to help them get through their day.
And yet, we're still very early on that development curve. While there are many apps that offer assistance, they are often stuck in these self-contained ecosystems with little or no interoperability. Given there are personal devices pretty much everywhere, people are …. hacking is not the right word … they are using apps in creative new ways to overcome existing barriers. As long as there is no standardised practice around this stuff, it's still up to individuals to make it work for them.
Especially the newer generation of developers are a lot more conscientious about the final output, I think. There is more of an understanding of what digital inclusion means and how that notion needs to be built-in from the ground up. It's kind of upwardly influencing. It's a bottom-up change which is wonderful to see.

Wojciech Nadachowski
Kathy: There have been some great advances in making technologies less intrusive, less 'othering'. There are also, as Woj says, some great apps and some very innovative ways of using them.
I don't have any personal experience with using AAC [Augmentative and Alternative Communication] devices but like a lot of the autistic community I find written and online communication far easier than speaking or gleaning information from spoken words. People I know who do use AAC devices say there are issues in using the technology, but even more issues associated with understanding and acceptance. Although using an app on an iPad is less obvious. One friend had the experience of being ignored in the emergency department when she was trying to use her AAC app to communicate with nurses; they didn't stop to listen to the text-to-voice message, and she was told, "If you're able to play on your iPad, you can't have that much pain." I think there's an opportunity to develop communication technology to the point that the platform it's on isn't the focus for people.
Kai: Are there any specific types of emerging technologies, such as voice-controlled interfaces, virtual or augmented reality, or even just wearables that are really promising in that regard?
Wojciech: Absolutely. Eight years ago, when wearable technology was still a very new idea, I was involved in a project where a device would read the pulse of an autistic person, then push that data via Bluetooth to a mobile app. The app would respond to the heart rate with little interventions. So for instance, if the heart rate was raising very rapidly, you could send an alert asking, 'Is everything okay?' If it's rising again, maybe add a specific colour or a song that had a calming effect on the person. At a certain threshold the phone might automatically call someone.
There are lots of similar projects being worked on these days. For example, I know of an Apple Watch app that assists people with remaining on task in a class setting, gently reminding the user what to focus on.
One friend had the experience of being ignored in the emergency department when she was trying to use her AAC app to communicate with nurses; they didn't stop to listen to the text-to-voice message, and she was told, 'If you're able to play on your iPad, you can't have that much pain.' I think there's an opportunity to develop communication technology to the point that the platform it's on isn't the focus for people.

Kathy Issacs
Yeah, I think while there is a lot of hard work to be done to make technology more inclusive, a lot of existing products have already had a hugely positive impact on the autistic community. As a parent of an autistic child, I've learned a lot through Twitter and Facebook, for example, because it gives voice to so many people with lived experience. And publishing platforms like Medium have really helped in getting those voices out, because they offer a minimally-distracting, easy-to-use interface to get content up.
Wojciech: I agree. It think social media and Medium in particular has really enabled people to find their tribe, to congregate digitally, and to share ideas. That's been a very, very powerful moment, I think, in autistic advocacy. Extremely powerful.
When we talk about these platforms these days, the vast majority of it is negative – it's about how terrible they are for society. And yes, no doubt, there are lots of issues we need to talk about, from privacy to narcissism. But for the autistic community – where there is no narcissism, by the way – I think it's been a place for very real, meaningful, purposeful engagement.
Kathy: Laughs. I don't know that I'd agree that there's no narcissism in the autistic community. Just far less than we experience outside it.
I definitely agree that social media has been an incredible boon for me and for others of the autistic community. The sense of connection – of a hundred voices crying 'Me too!' early on in your journey when you're exploring a half-formed thought about yourself is validation you could only dream about outside that setting.
Sites like Medium offer the opportunity to share these experiences far more widely, and to provide insights from a neurodivergent perspective. They can be a source of misinformation as well, of course, but slowly the community is flooding it with personal stories, and people's concept of autism is becoming broader and less focused on 'observable behaviours'.
And as we become more visible, people are recognising in themselves the experiences and struggles we write about, and finding their community, the people like themselves. Then some of these will add their own stories for others to see themselves in.
Mark: That tribe-forming part in itself is something really big, isn't it? It removes a lot of isolation and has potential to fulfil those core needs to say, 'I am here with others like me.' But it's also about giving people a sense of familiarity and consistency. Facebook, for example, is blue and white. I know where the navigation is. I know how I can find something. Unlike Google, which is a door to anywhere – infinite, open-ended distraction.
Kai: I'd like to go back to the idea of developing a standard of sorts that includes better neurodiversity guidelines. You might be familiar with this concept of progressive enhancement on the web – that, if you have a really old computer and a slow connection, the pages you visit are displayed in a very simplified, light-weight version – like a Web 1.0 experience. Only if your device and your connection are capable of it, an enhanced, much more data-hungry experience is loaded.
I'm wondering whether that concept lends itself to the neurodiversity realm. The user could set a 'calm mode' where most of the distracting elements are removed. There are no moving elements, fewer colours, fewer typefaces, et cetera. Do you think that's the right way to go about it?
Wojciech: It's a good question. I think because there are so many different ways in which people will experience the web, it's gonna be hard to accommodate each case down to that granular level. So perhaps the trick is to build in certain controls at the browser level. Let users with specific needs turn on or off certain settings that respond to existing accessibility standards.
The last thing you want is to stymie innovation and creativity by telling people what they are allowed to put out there.
Kai: I've noticed that some people are going back to using basic mobile-versions of some sites, such as Twitter, because there are just too many moving parts – notifications, ads, update reminders – thrown into the native app experience. It's kind of a 'back to the roots' movement: just give me the HTML 2.0 experience that loads quickly and removes the shiny bits so I can focus on what I came here to do.
Wojciech: Yeah, it's very much in line with the mobile-first approach which is now being embraced by so many designers and developers. By limited your scope, you're forced to be a lot more particular, you have to think more about space and typography. The priority is on providing a great experience on a little screen first and you go out from there. Once you move to the desktop size, it often gets a lot less interesting for designers because there is just too much freedom, too many choices – it's almost frustrating.
Kai: Given that there is currently no specific authority that provides guidelines for people with neurological differences, what advice do you have for organisations that would like to create an inclusive experience online?
Wojciech: Well, in the absence of such guidelines I would say go to your users! Instead of just having multiple stakeholders provide feedback on the design and workshopping it to the Nth degree, actually involve users with diverse needs and experiences early in the process. Beyond that, referring to Universal Design Principles is a good start too.
Kathy: Yes, I'd have to say that's the most effective process – work with a diverse team, and consult with the autistic community from the outset and regularly through the project – particularly with those who are likely to be using your product or service.
Providing options for how the page is displayed is important, too. The traditional high-contrast accessibility settings can be confronting or even painful for people with sensory sensitivity, but a low-contrast palette will make it less accessible for other users. Allow people to direct their own experience.
Keep it simple and consistent, avoid clutter and distractions, and keep seeking feedback.
Wojciech: Also, as you're probably aware, the WCAG working group is now working towards new standards. I believe it's called Project Silver. So the purpose of one of the projects that Autism CRC is involved in is to make sure that autistic needs are represented as requirements for those new standards.
At a UN level there is also a push for digital sovereignty to become a human right. If that happens in the next five years or so, the question is: how prepared are we for that?
I definitely agree that social media has been an incredible boon for me and for others of the autistic community. The sense of connection – of a hundred voices crying 'Me too!' early on in your journey when you're exploring a half-formed thought about yourself is validation you could only dream about outside that setting.

Kathy Issacs