St Mary's House of Welcome has been providing healthy meals, connection and support to the homeless community of Fitzroy for 60 years now. When the pandemic hit Melbourne at the start of the year, they had to close the doors to their dining room and re-think their operations and service delivery.
Our Technology Director, Mark Davis, chatted to Robina Bradley, CEO of St Mary's House of Welcome about her organisation's experience of change during the pandemic, and how they're innovating to better serve the homeless community.
In conversation
Robina Bradley, CEO of St Mary's House of Welcome
Mark Davis, Technology Director at Today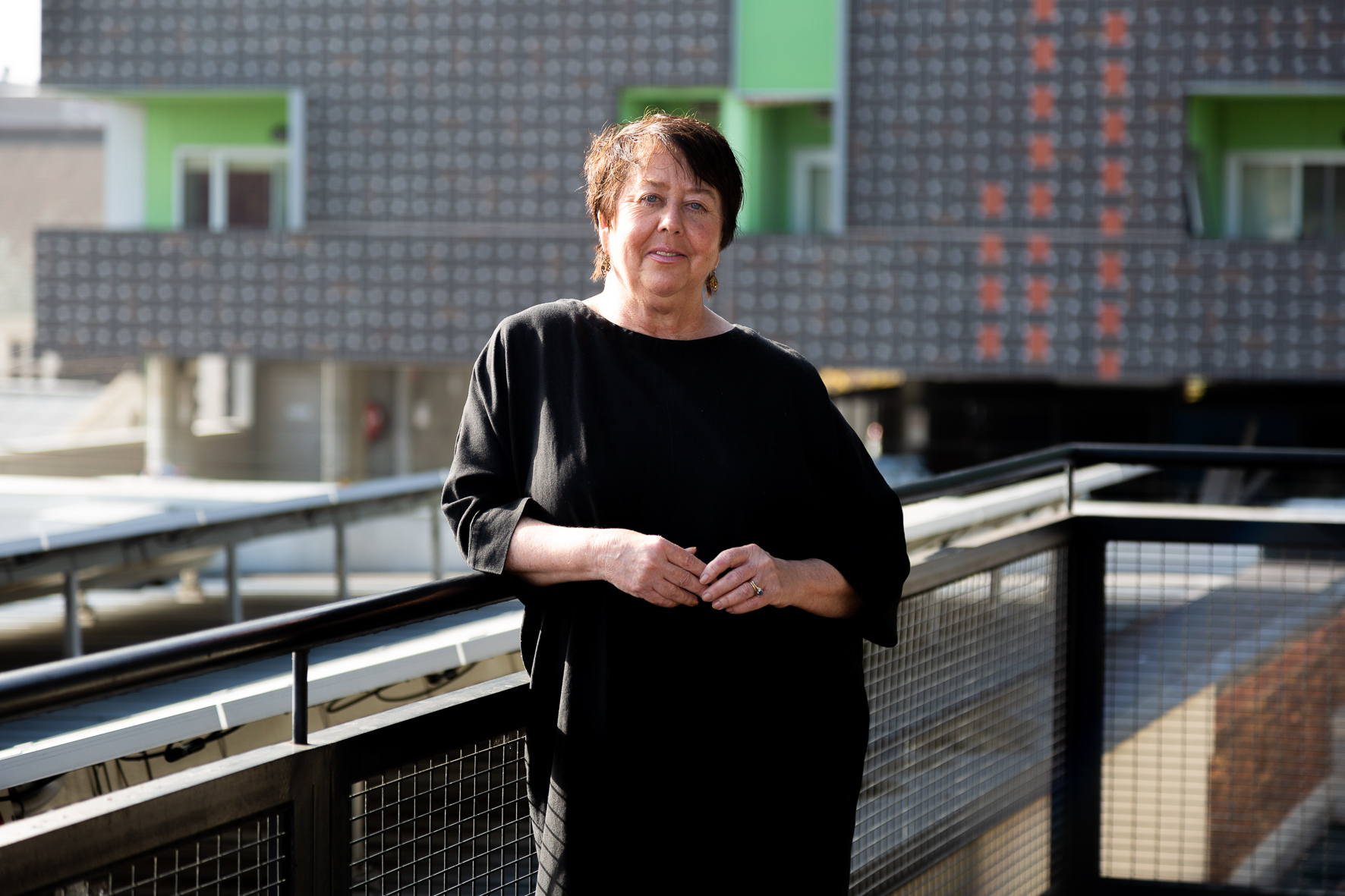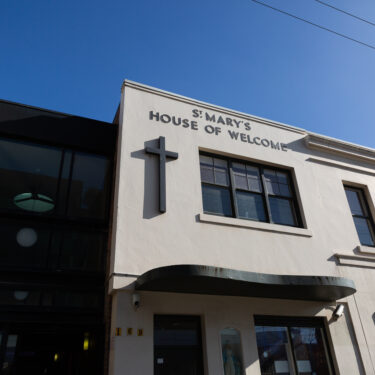 Thanks for your time today, Robina. For the benefit of people who don't know St Mary's House of Welcome in Melbourne, it would be great to start with an introduction to your purpose and mission.
Absolutely. So House of Welcome is a young 60 years old this year. It was started by the French Daughters of Charity who set up a soup and sandwich kitchen in Fitzroy because they saw a need to support the poor and homeless.
We have grown over 60 years and kept a remarkable heart within the community; being someone that's just there to welcome. About 60% of our funding comes from either the government or a small NDIS disability program for people with psychosocial problems, and 40% of our money comes from fundraising and general donations from wonderful donors. That really supports the core of what we have done for many years, which is provide a place where people can come and get a warm, nutritious meal.
So normally every day—outside of COVID—we have about 200 people come through the front door. Our community workers would meet with them, essentially to do a bit of screening, they might have a hot meal, they might have a shower, we might give them some fresh jocks and socks. And then the magic happens; they move out to the courtyard and we touch into their lives and find out, 'What's happening? What can we do?'
We're an open access service. So we essentially triage and refer people onto other services, but we're that linchpin of safety and connection. I think that reputationally, it's what the House of Welcome has been for a long time. People trust us and they know us. Last year, in a client engagement survey, they said, "100% we trust you. You do what you say you're going to do. You value us and you respect us."
Our mission is to stand with disadvantaged people through a social justice frame, and provide practical support, solutions and hope. In words, our values are welcome, relationship, hopefulness, and respect. They are strong tenets of what we are and why we do our work.
It sounds like the soup and sandwich kitchen—which is a great expression from 60 years ago—is still very much alive now. I'm sure there's been temptation to branch out and deepen services over the years, but it sounds like that original mission has really stayed true. Has that been a deliberate decision?
It has been a deliberate decision. I think it's because a meal has always been a great way of connecting with people. I've only got 23 staff here and about 300 volunteers. So, our kitchen runs through the many volunteers, of which many become part of our family.
Connection starts when someone may come in having experienced domestic violence, sleeping rough, couch surfing, and feeling really lost. Whatever the problem is, they can just quietly slip into our dining room, have something hot to eat and then walk out to our courtyard and get a coffee. It's at this point that someone can say, "How's it going? What can I do?" That has been a connection point for 60 years now.
But interestingly enough, COVID's making us cast our way forward. Social distancing is going to mean a lot of that needs to change.
Having 70 people in a dining room isn't going to be possible for a long time and while we've reinvented ourselves over the last period to adjust to COVID, I think we're going to see new levels of vulnerability in the community.
I always like to share the story of the Daughters of Charity from way back in the 1600s in Paris. The Daughters really did many things; they worked in hospitals, they worked with TB patients, they would go out teach English and literacy skills to young French women so they could make a pathway for themselves in life. They were always offering support, solutions, and hope. They would work with the galley slaves, because they saw the galley slaves were malnourished, working all day, stuck in the ship and sent back into the jails at night, and often beaten. When the Daughters would go to see them and take them a meal, no one would beat them while they were there. The act of taking a meal was the connection point.
We think about the practical expression of what they've done for so many years and thought, "What will this mean for us post COVID?" Because we've never seen such new levels of vulnerability. As people are losing jobs, perhaps losing houses, and certainly income availability— it's going to be very different moving through this period.
We're thinking about what's going to happen and how can we reposition ourselves to support a new and different lot of people, as well as still continue to support those people that are with us already.
We think about the practical expression of what they've done for so many years and thought, "What will this mean for us post COVID?" Because we've never seen such new levels of vulnerability. As people are losing jobs, perhaps losing houses, and certainly income availability— it's going to be very different moving through this period.

Robina Bradley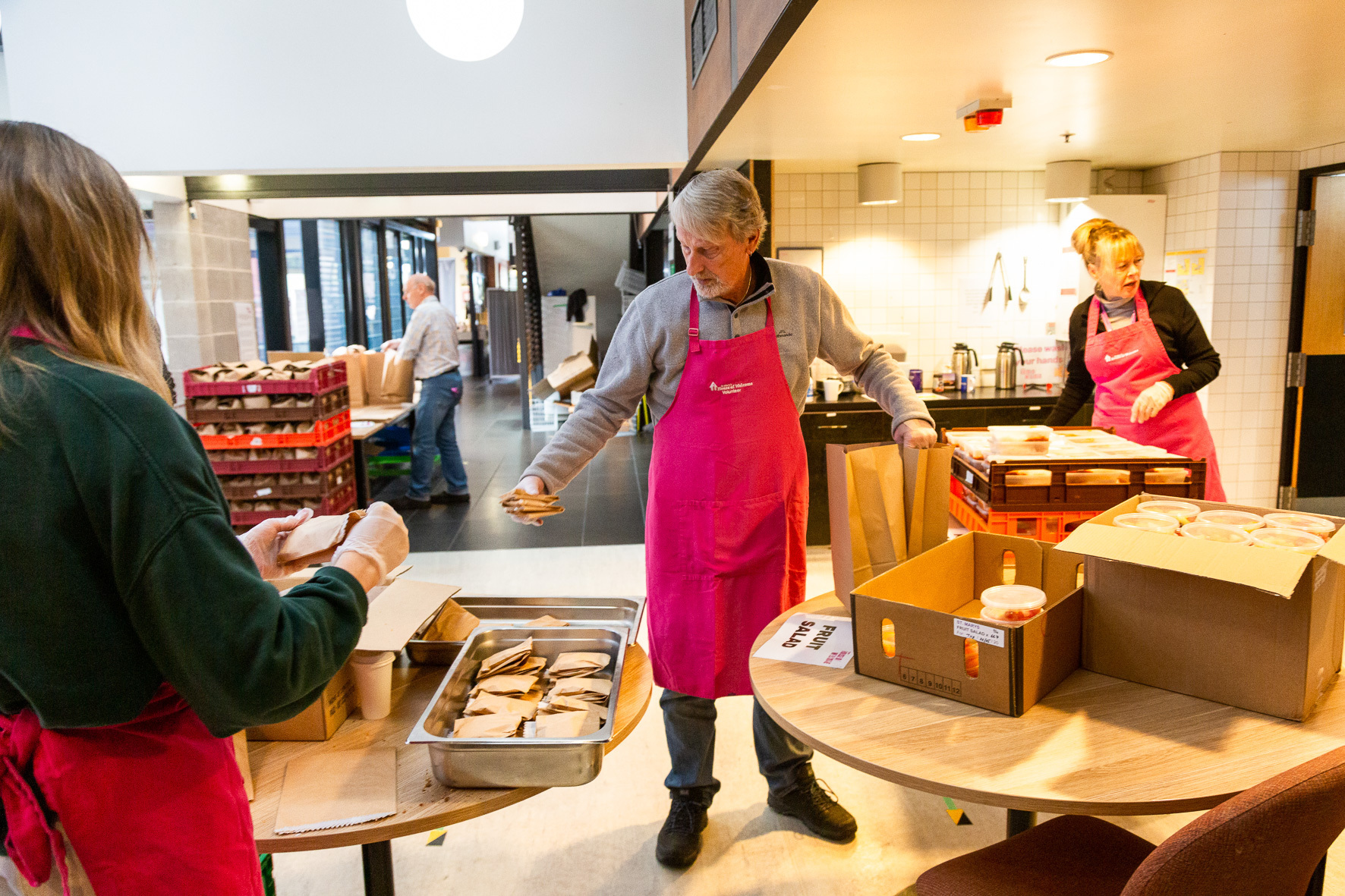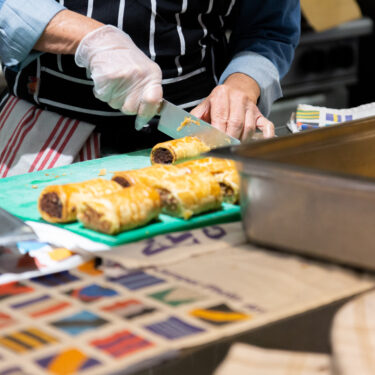 What impact do you think the pandemic has had on the people that you normally serve? Has it significantly changed things?
It has. We had to say thank you to our volunteers and shut our doors. We're an essential service, so we did a few little trials and redesigns of the ways we could deliver meals, and still deliver some showers, and be much more practical. We very quickly came to the conclusion that a packed lunch is the way we were going to have to move forward.
We developed lots of new partnerships within the community to support this. Everything from the Parliamentary Kitchen, to local grants with StreetSmart, and working with Ladro, who are delivering 80 wonderful meals a day. We've worked with people who have given us grants for laundry, so we can continue to get people's laundry done up the street. We've received grants to go work with Umago next door, our pizza shop. So over the Easter week when we were closed, we were able to give vouchers to everyone that came for the Easter long weekend so they could go and get some pasta and a drink and salad, which also kept local business going.
At the very front door, faces look very different. People coming up to receive meals look like they are new to homelessness. There are people that suddenly didn't have money for a meal and were suddenly very socially isolated—they just wanted to talk to someone for just a couple of seconds. We've had people coming up that we've never seen before, that were quite well dressed,and almost looked a bit uncomfortable, probably thinking, "I've never had to do this before."
Being able to just say, "Hey, we've got this fantastic pasta dish today, and I've got a ham and cheese toasty and I've got a piece of cake and a fresh fruit salad. And hey, would you like a slice of pizza from Ladro?" And seeing the reaction on their faces is something really special.
Being able to get emergency relief bags out has really made such a difference. We feel great, because we're still able to interact with our community, even in a small way. Every morning 110 people come to our front door over the course of about four hours, and line up in 1.5 metre squares. They have their temperature taken, we ask a few COVID screening questions, and we do a mini mental-health check, "How are you? Is there anything we could do?" This is so we can make some referrals and then at the end we give them a bag of supplies.
It's made a difference for the staff, because they actually feel really great about touching people's lives that perhaps they wouldn't have touched before and they can respectfully support them in a way that just gets them through this time.
We're continuing to stretch the button a little bit. Because as you know, we came to Today and said, "We're getting a lot of requests for meals for people who have been moved into rooming house accommodation, and I want to figure out a way we can support them!" You worked with us on the concept for 'Welcome Relief' meals, such a beautiful concept. And now, we have about 700 meals that go out the door every day.
So we got some volunteers back last week for the first time, which is great. And we're packing up these welcome relief meal bags with a little note saying, "Thank you, we're thinking of you and here's your meal." They get beautifully wrapped up, go out to the motels and get dropped off, but as a result of this program we're able to impact more people. (Update: We now have City of Yarra staff available as we have had to stand down volunteers during the new restrictions.)
I think adversity is really the place where fertile, innovative ideas come from. So we're so chuffed at the moment. I think last week we did 4,500 meals.
Robina, that's amazing. When we were working on the form for people to request a meal, we changed it a few times and once it was ready we thought, "We hope this works." So now hearing that you've been able to increase to 4,500 meals a week, that's just wonderful, what a great story.
It's been great. And that's been made possible through partnership with about four or five different restaurants, the Parliamentary Kitchen, keeping the logistics company working to support us, people giving us grants which enable us to manage costs that we wouldn't have had the capacity to cover. It's really exciting.
I think adversity is really the place where fertile, innovative ideas come from. So we're so chuffed at the moment. I think last week we did 4,500 meals.

Robina Bradley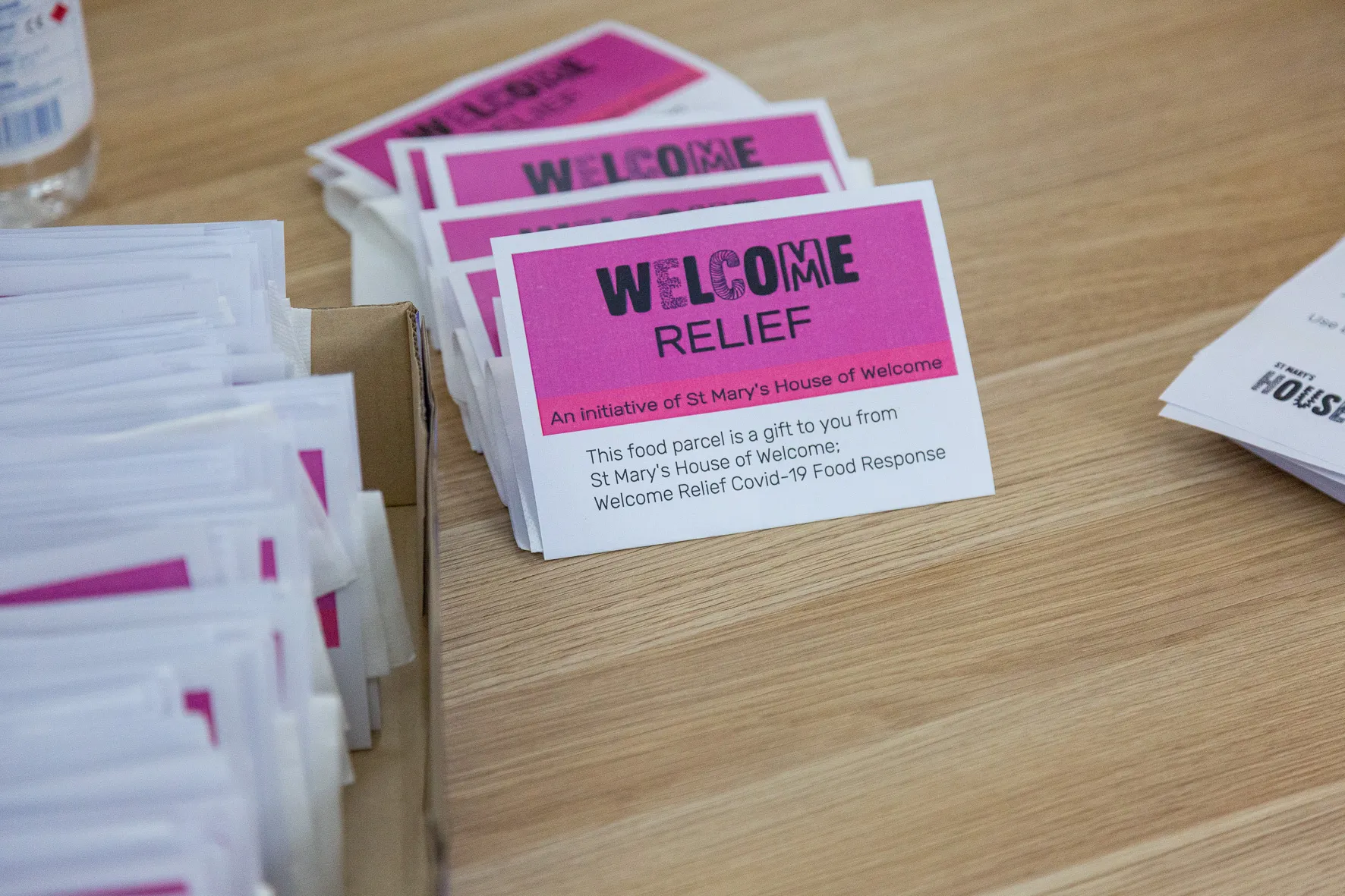 2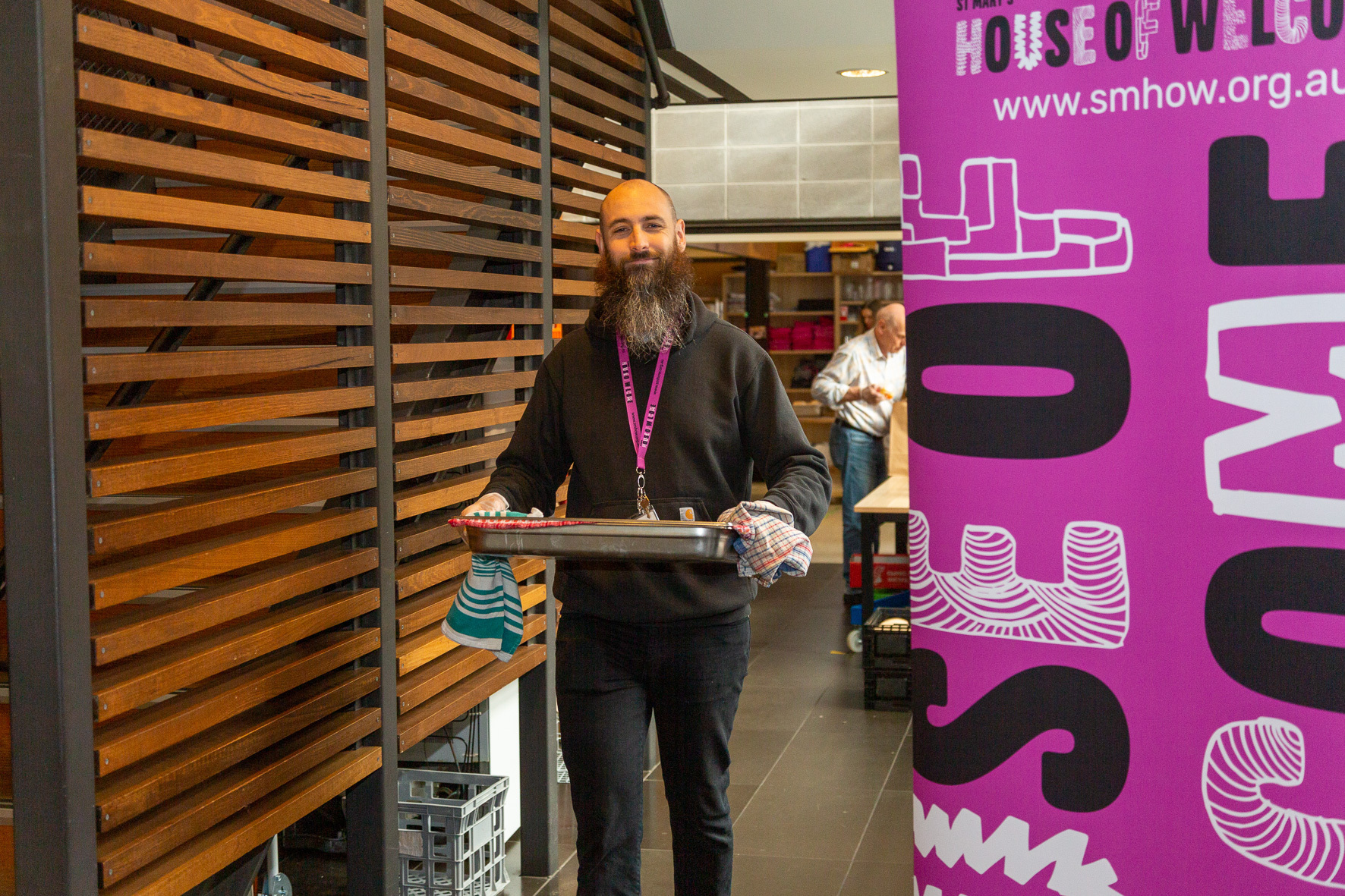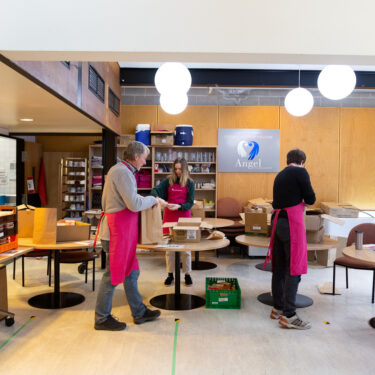 How does this change your frame for the future? There are all those modern words like agile and pivot, that we use for technology companies, that are almost more relevant for what you're doing at House of Welcome at the moment. It's hard to see through the pandemic and the restrictions at times, but it will finish at some point, it is transient. So I'm curious about what you have planned for the future.
Kristine, Stephen and Kathy—my leadership team—are wonderful. We're an eclectic group and we all know our little swim lanes well. Kristine's fundraising, Kathy's business, finance and kitchen, Stephen's operations and I just have a great time upstairs!
We have a strategic plan that we recast last year and we're looking at refreshing our service model. We're focused on connecting our clients to NDIS packages, which is a wonderful piece of work. As part of that we're just starting to actually map the service system and look at "What are everyone's roles in the zoo at the moment? Where do we fit currently? Where do we think will fit into the future?"
This is a bit of visioning that the leadership team and I have started. We'll be going to our governance and mission committee for the board and working with them, taking some things back to the staff; because we always co-design—just like when Today came in and worked with us on our brand, that was beautiful.
Next we have to talk to the service users and actually, that's going to be really hard because a lot of our clients have been socially disconnected for years. They're isolated even more so now, but they're also connected to us in a social frame, they come here for connection.
We're having to ask these questions, "Who's new? Who's the most vulnerable of the vulnerable? How much should we do here? Do we need another footprint somewhere else?"
As the NDIS grows and we transitioned more people into psychosocial disability packages, is that a place to be and grow big? But also not lose our heart for our homeless and our vulnerable community.
We're really having to define 'vulnerable'. What is the new vulnerable? Who is the most vulnerable, and who can we look after? So we're mapping that and laying that matrix over who is funded to do what and figure out where we could fit in.

Kristine tells me I'm shameless, I always ask for money. But maybe then I can go out and bravely ask. I'll be able to go out and say to people, "Hey, we want to be this. And we want to be this here."
Maybe we could do the same thing in Footscray. Maybe we could be further down the road in Richmond or Abbotsford. But my next question is, okay, we could be in those places, but what will we do in those places? So, that's the next exciting question.
What's really compelling to me is that question of "Who is the most vulnerable of the vulnerable already?" I wonder how many people ask that question, and how deeply that's been looked at? I think there's something very unique about The House of Welcome and where you are, who you are and what you've done for 60 odd years that has really put you in a position to ask that question well. That's a perspective that is probably quite unique to you and your cohort there, where I think there is a bit of a blanket lens on disadvantage for a lot of people, but you'd be able to look at that quite differently.
I come from a service improvement, lean, agile methodology in my past working lives. So I'm used to asking questions and solution gazing, but not always landing on a solution. But I enjoy having something far-thinking and testing ideas. I've got this frame in my mind at the moment. Maybe we still keep a cohort of people we've been more connected with, but in another place in another way. Maybe we all start brown paper bag lunches every day up in Fitzroy Gardens and we have an outreach time where people get out and do Tai Chi and eat a sandwich together. That's their social connection, it doesn't have to be for five hours here.
We have to think differently. Because the world's requiring us to reinvent ourselves in every facet of our lives. We have to be brave enough to ask the question, maybe test a few ideas, and maybe as we're building these relationships with people in a new way, that's where the greater opportunity comes.
Mark, I have to say, we never expected the generosity of so many people during this time—from our supporters and people that have just come in and said, "I can give you 200 meals or I can give you $2,000."
We're also going to shore up for a bit of a lean period here, because I think, I don't know that we've all grappled with what past COVID looks like, but I think the next financial year is going to be a tough one.
Everything's different, we're just starting to talk with the team about what our events will look like moving forward and how we can be innovative and still connect from a community point of view, but also perhaps think differently about the envelope and the ask.
I've heard a couple of people mention that the idea of social distancing is a bad expression, really it's physical distancing. The fact I can still have this wonderful conversation with you today and hear the passion and drive behind such an amazing organisation is a really good reminder for me that physical distancing is not the same as social distancing. And that community is still alive and strong, but finding new ways to leverage it is really important for all of us.
Sweeping back for a second Robina, you touched on coming from a background of lean methodologies, how did you come to find yourself at St. Mary's House of Welcome?
I started out as a nurse. I grew up in Sydney, trained in Bundaberg, travelled in Alice Springs, set up psychiatric services there, then I worked in Tasmania, Adelaide, overseas, came back to Melbourne and had a thousand jobs along the way. So, I've managed a national general practice program, I've led hospital acquired infections programs for the government and I set up Port Phillip Prison Hospital for the Sisters of Charity. I've always had these wonderful major change projects that involve taking people on a journey and saying, "Could we do something differently?"
Prior to coming here, I was actually a general manager of a public hospital and in my side life I'm chair of the board for Baptcare, which is a large social welfare organisation, which I love dearly and has the same missional heart, "Fullness of life regardless of anything," that's just the mission there.
I took six months off when I became Chair of the Baptcare Board to do the company directors course and took some time reflecting on what impact could I have on the governance of Baptcare to leverage it.
When I was on leave, a girlfriend rang me and said, "Oh, there's a job on Ethical Jobs that you'd love." And I said, "What's Ethical Jobs?" And she said, "Don't you know?" I said, "No, I'm not looking for a job." And I had no idea that Ethical Jobs even existed.
I read the ad, and I thought, "Oh!". So I decided that I would go for a job for purpose rather than for profit and this just jumped out at me. When I met the board and saw the team here, I couldn't resist swinging myself into another job.
I've been across dental health, and every part of the body just about, every part of the service spectrum that you could possibly imagine. But this role is almost the amalgam of all my skills in a nice way, with a wonderful team.
That's where I am very lucky, the leadership team and the ground floor team are completely passionate and will actually challenge my every thought and emotion. Sometimes I just want to say, "Oh, just listen to me." And end up thinking, "No, I will listen to you." Because every time I do, I see their passion and their commitment to what they do and they remind me why we do what we do.
This job is for purpose and not everyone understands why people are homeless, not everyone understands why people hit a rough part of life. And it's a great privilege to work in an organisation with such a rich history that connects to me and my values. If I couldn't connect to it, I wouldn't be here and could probably retire now because I'd probably be earning three times my wage. There's no regret in taking on this role.
We have to think differently. Because the world's requiring us to reinvent ourselves in every facet of our lives. We have to be brave enough to ask the question, maybe test a few ideas, and maybe as we're building these relationships with people in a new way, that's where the greater opportunity comes.

Robina Bradley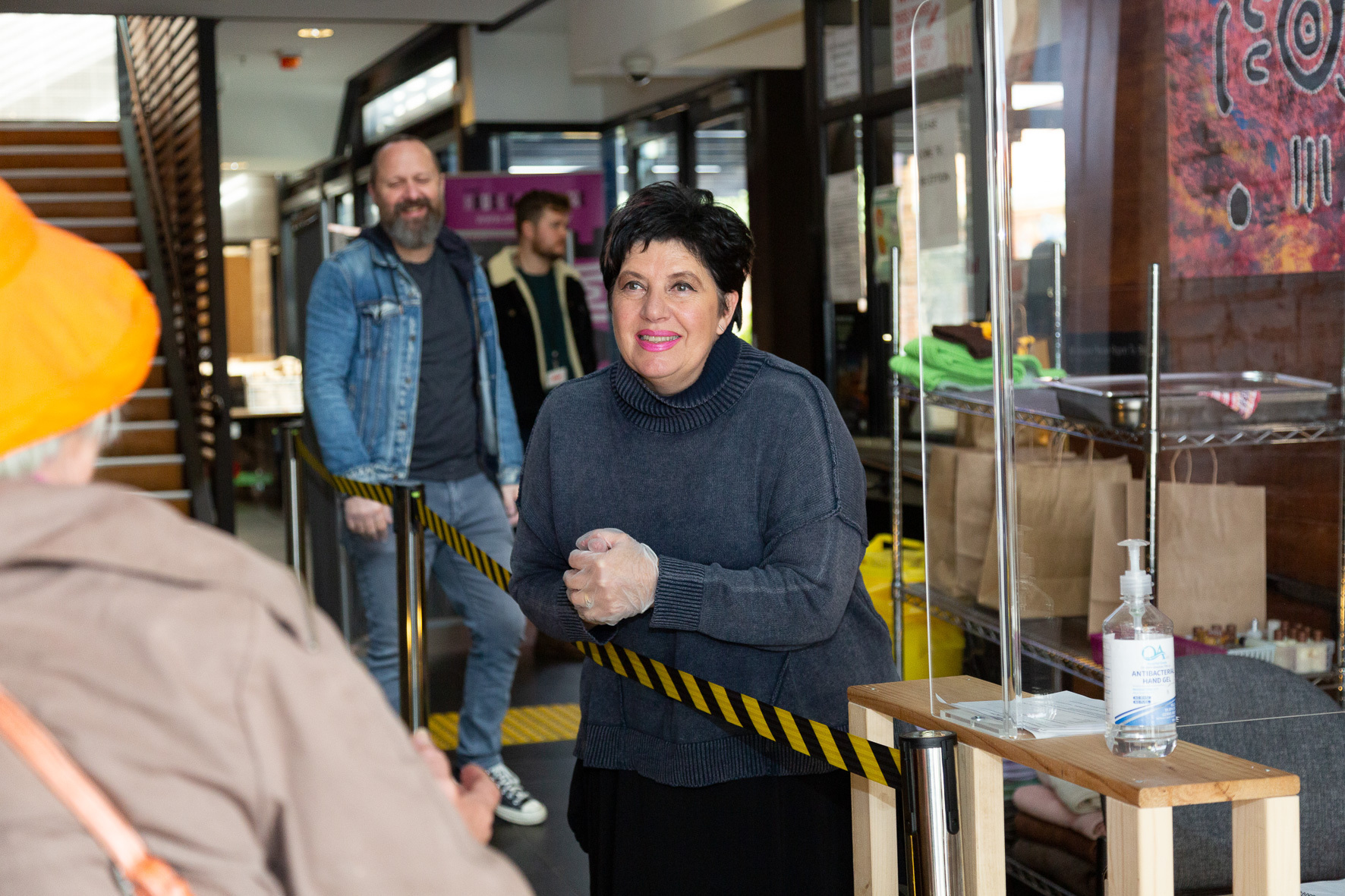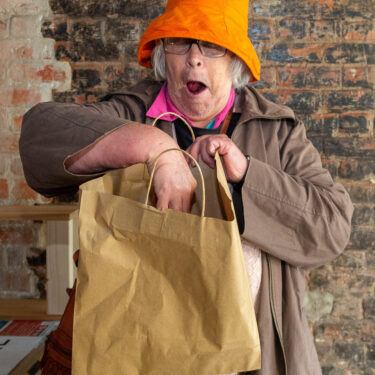 I will never forget that first day that we came up to visit you before we started the website and the brand work. When you meet people like yourselves—and you especially Robina—there is a passion and obviously a drive about what you're doing. The way you talk about it is just so compelling. I know a lot of our team love coming to volunteer and feel as though we've become part of the family.

Not being able to come up the road on Wednesday or Thursday mornings anymore and helping with the breakfast runs was one of the big losses for us when the pandemic started.
Everyone who has volunteered in the dining hall just loves the experience. But I think you can experience the House of Welcome in many different ways. And that's part two about this job—for me it's actually a personal place for alignment, it very works very comfortably for me. I'm not Catholic, I'm a Baptist, but it's a practical expression of social justice through that faith. It's really what this job is about. And it doesn't matter whether you're an atheist, you're Muslim, you're Baptist, or you're agnostic, you can connect to the mission and the faith element resonates with people from a spiritual nature.
And that's what I love about the job as well, is that I get to be me and everyone else can as well. I connect with everyone about what their passion is and we all collide perfectly, and there's no tension between any of that.
I remember in my first week someone said to me, "Oh, but I'm an atheist." And I said, "Look, that's fine by me." I said, "I'm interested in why you chose to come to a faith-based organisation." And the comment was, "Because it still connects to the spiritual nature of what I do." And I thought, "Yes, that's it."
There's no one size. It's a bit like that old, what was that tupperware-shaped ball that my kids had many, many years ago where you put the little shapes through into the coloured ball, it was red and blue. That's what Mary's House of Welcome is. It is polished shapes spinning in and when we get inside that ball we make a bit of noise and we have fun.
That's a lovely visual. From my view the messaging of the House of Welcome is really around the comment you made before about being there, regardless of anything. Standing alongside, supporting and looking after disadvantaged people no matter what. It's great.
We could all think the world is terrible because the newspapers are full of all the bad stuff. But actually there is far more goodness in our world than we can possibly, possibly imagine. We just don't tell those stories well enough. And that's what I love about the House of Welcome, it's just a practical expression of all of us in our community that actually feel good, do good and walk good. And we all find a little way of doing it. And that's what's great about this place. It's just a nice little pot of goodness.
Robina, that's an excellent way to finish up. Thank you so much for your time. It really is quite heartwarming to ask some of these questions and get a reminder of what good is going on in the world.
I have to say to all of you at Today, we have absolutely loved you to pieces. From the moment the relationship started, it's been such a great fit and connection. You get us, we get you, and you managed to co-create with us a visual way of us moving forward. And so, my end point would be to say that anyone connected with your company, with your team, thank you, because you guys are amazing and we selfishly promote you wherever we go. We're very grateful, you gave us a new way of framing ourselves for the next 60 years.
Thanks Robina, lovely words, we just love the partnership and we're very happy to be connected.
We could all think the world is terrible because the newspapers are full of all the bad stuff. But actually there is far more goodness in our world than we can possibly, possibly imagine. We just don't tell those stories well enough. And that's what I love about the House of Welcome, it's just a practical expression of all of us in our community that actually feel good, do good and walk good. And we all find a little way of doing it. And that's what's great about this place. It's just a nice little pot of goodness.

Robina Bradley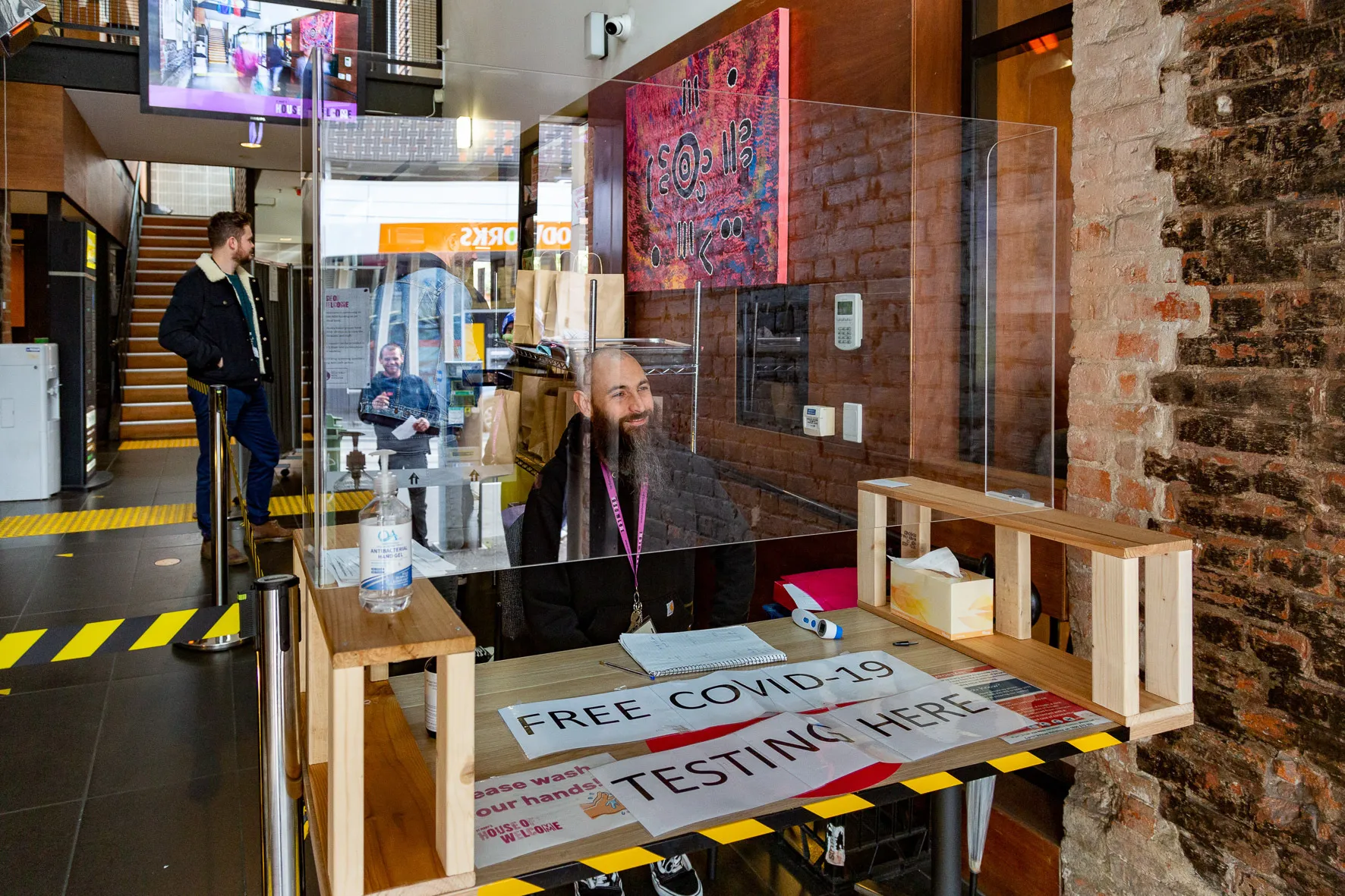 2
Tap to explore content