Mental health is under the spotlight. Off the heels of the Royal Commission, flood and bushfire disasters, and an ongoing pandemic, it's clear that the systems designed to support people when they need it most need to change. What innovation can strategic design inspire in this space?
Alex Moshovelis, Service Design Lead at Today chatted to Gita Chetty, Strategic Design Lead at Beyond Blue about systems and futures thinking and what design approaches she's bringing to this challenge.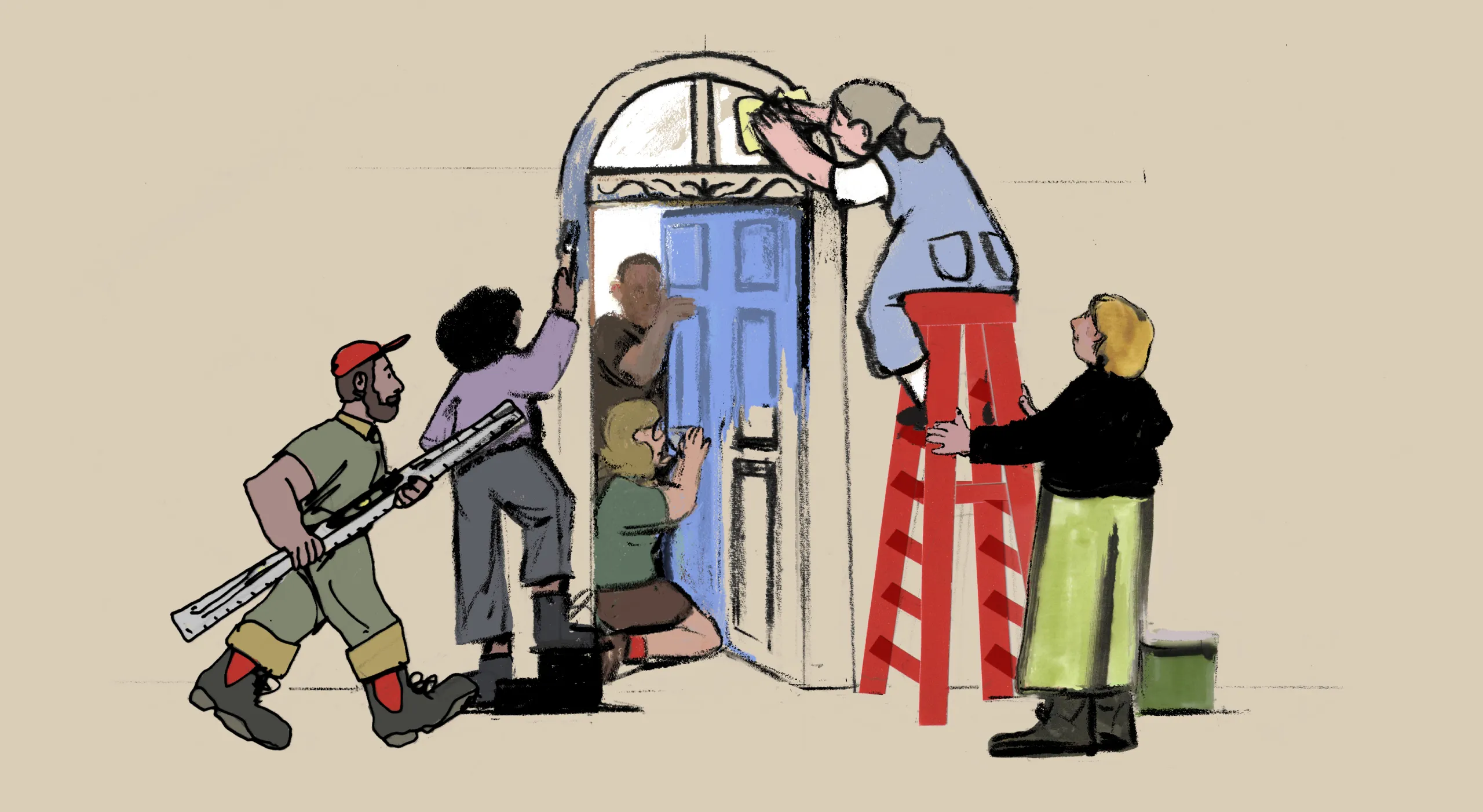 In conversation
Gita Chetty, Strategic Design Lead at Beyond Blue
Alex Moshovelis, Service Design Lead at Today

Thank you for talking with me today, Gita. Do you want to start by introducing yourself and telling us a little bit about your role at Beyond Blue?
Thanks, Mosh. I'm Gita Chetty, Strategic Design Lead at Beyond Blue. I have—I have to say—the most exciting role in Beyond Blue. I get to work across the organisation with our service and products teams, with our community teams, and with the teams that are building what we're calling the Big Blue Door.
It's a very exciting concept. It's an experience layer that sits on top of everything—all of our information, products and services—and is going to be the place where anybody in Australia can come to access mental health support. It's a meaningful challenge to make sure that it happens and that accessibility and inclusion are top of mind when we create this.
I also provide design leadership and support across the org. There are lots of really interesting projects going on, so it's an exciting time at Beyond Blue.
That's so cool. I guess, on that, what's the maturity like around design and strategic design? Is it fairly new or is it evolving? Tell me about that.
Look, when I started 12 months ago, it was new, entirely new. I think it is really about doing and showing, being around and supporting teams, and actually providing the support of what strategic design is and the role it can play within the organisation.
We will have some short-term challenges and opportunities, and I think one of those opportunities is creating a co-design playbook and really thinking about capability, the day-to-day of what we need to do so we can work together.
In terms of human-centred design and co-design—and all of that language that we hear—I think it's become very big in the sector, but I think we need to make it true. When we have a cube, for example, everybody sees that cube differently, and we need to all align and start understanding what true co-design is.
I think that's going to be a longer-term journey with the organisation because co-design has lots of different aspects. Co-design is a mindset—there are methodologies in there—but I think ultimately it's about the sharing of power. Sometimes for organisations that are in a position where they provide advice, the sharing of and letting go of that role can be difficult. It's important to move more to a facilitation role and facilitate the community to seek the supports and experiences they need and expect from Beyond Blue.
Co-design is a mindset—there are methodologies in there—but I think ultimately it's about the sharing of power.

Gita Chetty
That's really interesting. For people who haven't had experience with human-centred design or co-design before, is there excitement around taking up these types of new methodologies and ways of working? What has it been like on the ground?
Good question, Mosh. It's a bit of everything. I've experienced people really excited, people really practically coming to us and saying, "Look, I've got this project," or, "I want to look at my service and see how we can make it more accessible." And "We want to use these methods, and I've read this, and I went to the IDEO site," all that kind of stuff.
We've got people who feel like Beyond Blue have been doing this for a really long time and it's just a different name that we're putting on it—it's jargon potentially—and that Beyond Blue's always worked in this way. There's truth to that as well.
There's a lot of people in the org that come from community development backgrounds and people with lived experience and people who have been working with communities for a long time. But potentially, I think they have been connecting and engaging with the community, but potentially not using that engagement to design new services or products or to shift power dynamics or structures within the organisation. So, I think that there's that aspect as well.
And then I think that, because we're in the middle of a transformation alongside the sector, there are also people who are wondering what this thing is and trying to differentiate it from our transformation as well.
Can you tell me a little bit more about the transformation and the Big Blue Door. You started that journey a little while ago, so I'm excited to hear where it's going, and I guess maybe from a community perspective, how it's being understood and how excited they are for this as an opportunity for Beyond Blue.
The Big Blue Door, is a really exciting concept. And I call it a concept because it's still in a conceptual stage. It's a very complex piece of work in terms of aligning the organisation to this vision or concept.
Really what it is, is about delivering accessible, personalised, safe and connected experiences for all Australians. And I think that's a mean task. We need to start dissecting that to understand how we are going to go about it. Where we're at is we've got a really great piece of work going on in our brand strategy to understand what is that segmentation? What are the cohorts? What do they think the role of Beyond Blue is? And another piece of work we just completed called Current State Experience Research which looks at behavioural archetypes and journeys. And hearing from the community across these projects, the number one role they feel for Beyond Blue is being a hub. When you hear about what they think Beyond Blue can do, it really is quite aligned to the Big Blue Door.
When people use the word 'hub', is that physical, metaphorical, or is it virtual for them?
It's interesting. We did a future focussed research project called Reimagine last year. We really stepped away from the digital side of things and we went out to bushfire-affected communities and spoke to a lot of organisations. And for them, it's a physical thing. And for others—in a different piece of research we're doing at the moment—it's definitely a digital experience. So that's something that we need to balance.
The Big Blue Door is not just a digital experience, it is an experience for people to access services, though a great proportion of that is potentially delivered through digital channels. But there are other aspects of our organisation and our partners that are very much connected with the community face-to-face. So we need to understand the role of other aspects of our organisation and our partners and take a really complementary approach to creating this, because I don't think Beyond Blue can deliver something like this on its own.
Have you found challenges and opportunities around connecting with those partnerships? It comes up a lot in the work that we do, it's often said, "We've got to find the partners to make this work." I think it can be challenging to evaluate and figure out who those right partnerships are and what works for an organisation. I wondered if you had any insight into how you've managed that?
I can give you a perspective based on who we've spoken to. I think that genuinely Beyond Blue wants to take a complementary approach with partners. It doesn't believe that it should be the centre of this. It's very top of mind for us to make sure that we're complementary and we're designing services and products that adapt in the sector or can facilitate others.
But in saying, "Who are our partners?", it's such a complex question and something that is definitely being spoken about internally. We've got Lifeline, Kids Helpline and Reach Out. And with those organisations, it feels like we can cover a great proportion of the community, but at the same time, we need to think about what it means to be a national organisation and what it means when we say 'all Australians' because currently, we've got much more of a focus on the East Coast and in metro areas.
That's why that piece of research last year really focused on regional areas or more marginalised communities, or at-risk groups. And so, when you think about partnerships, I always think about, "What could be our future state system here?" Based on the Royal Commission, Mental Health Commission, the Productivity Commission, and all the opportunities they speak about, we really need to think more broadly than the mental health sector. We need to think about the social and the community sector. We need to think about social indicators of mental health. What are the organisations that support them? Whether that's employment, whether that's housing, whether that's having focus areas on multicultural communities, newly arrived migrants, established migrants. What's their relationship to mental health, mental health awareness, literacy, and Beyond Blue?
That work is being done now, so it's really exciting. 12 months ago, it was on the radar, but to actually see it starting for me is so exciting.
But, Mosh, you asked what could partnerships be? I think it has to be a mixture of mental health organisations, digital organisations—organisations that are really supporting digital literacy—but also grassroots organisations that are on the ground for at-risk communities. Whether that's LGBT, multicultural communities, First Nations communities or regional communities, especially those affected by climate change. They really need to be in our network. I think that we need to consider design and innovation and how those organisations can actually sit in the network as opposed to being external and coming in. I think it needs to be integrated.
It's a really interesting challenge to make that a reality. Do you have any thoughts on how that might work or how you think that could work well?
Mosh, I have the biggest thoughts on this. It's my passion. I feel like the Royal Commission paper, put it really well. It stated that we 'know' what we need to do- all the insights are there. I think the biggest challenge and the biggest opportunity is not what we need to do—so not the opportunities listed—it's how we actually come together to deliver those. I think that the sector knows what it needs to do. The barrier is how to go about it together.
And I think because it is so fragmented, and it's been fragmented for a long time due to lots of things—including funding—that organisations need to almost step outside their own structures to work on these problems together and kind of move away from their organisational KPIs to go, "Okay, well, this problem needs a systems' perspective, so what are the right organisations to potentially tackle this problem opportunity space?"
So what's required is a set of tools, a space, and a structure, for organisations to participate in leadership, in design, and innovation to help facilitate that. We, in our design team, have an idea around 'radical collaboration' framework and lab to start solving for this. This idea came directly from interviewing 32 organisations, who all called for a space to collaborate together.
I really do believe that it's possible. And I can already see organisations leaning into that. And I see the development of mental health innovation hubs in lots of different ways, shapes and forms- but what is required is a multi-stakeholder partnership model.
I think the biggest challenge and the biggest opportunity is not what we need to do—so not the opportunities listed—it's how we actually come together to deliver those. I think that the sector knows what it needs to do. The barrier is how to go about it together.

Gita Chetty
I love the way you've framed that. Something that I've been thinking about a lot is, how do we start to think more in systems rather than specific services and products.

You've talked about that from your own practice, and systems-led thinking and human-centred design kind of cross over, they have their different applications. In your strategic design practice have you been thinking about this more and more? Are there ways you've been able to bring this thinking into your work?
The problem is the system. And so you have to have that systems approach. Although within that systems approach you can have many other approaches within, and it's something that we bring to our design work when we can and when the problem opportunity space requires it.
There's lots of work we do at a service level for our Support Service, and yes, you could take a systems approach to what's occurring there, but for us, the Support Service is such a core service that we need to just improve it and make sure of that it's accessible and working before we start innovating the model itself.
Whereas if we are working on something that's future state—and thinking about new ecosystems and new service models—then we need to take the whole system into account, including the mental health sector organisations. But also more broadly I think we need to take a life perspective when we are designing things. It gets quite complex. You have the system, then people's lives, and their level of preparedness, and them as an individual in terms of stigma, and mental health literacy. It is the zooming in out from a systems level to an individual level and then back out to the community.
And then, obviously, we have to take into account our organisational perspective and internal strategy around what the organisation wants to achieve. There was the project last year that I referred to—Reimagine—where our goal was to step outside everything in a way and just go, "Okay, so let's just focus on social indicators—from a design perspective we called them needs, and we focus on extreme needs—and see if we just designed for them, what are those new service models or ecosystems that we find?" And then bring those back and say, "Well, how do they apply?"
...I think we need to take a life perspective when we are designing things. It gets quite complex. You have the system, then people's lives, and their level of preparedness, and them as an individual in terms of stigma, and mental health literacy. It is the zooming in out from a systems level to an individual level and then back out to the community.

Gita Chetty
So it's like bringing different perspectives, depending on the types of work, and the macro to micro lens.
That's right. You're pushing forward to come back. I think sometimes to push forward you need to move outside of the structures that exist, because I feel like that's not innovation, that's improvement. And there is a difference.
I think for innovation, yes, you need to consider reality, but you need to be willing to also push outside of that space in a really strategic way knowing that you're going to ladder back. I find that a lot of organisations are really focused on improvement. And I think that's okay, but it needs to be for the right purpose, because improvement is a really long journey, and sometimes it doesn't move at the speed of community mindset and need.
For organisations thinking or considering about going on that journey, what advice would you provide them? And what alternatives to improvement would you suggest?
Well, I need to say that potentially some organisations just need to focus on improvement and they may not have the space or the ability to take certain risks to push out of that space. And that's just the reality.
Organisations on the ground delivering services- it's a very real situation, where sometimes funding, need and timing only allows for improvement. I just wanted to call that out, as that's okay, and aspects of our products and services require that.
We're really lucky though, that we do have the funding and we do have a position within the ecosystem where we can try new things and always try with the benefit of sharing.
But Mosh you ask what advice I had. I think that you have to do both. You just have to. I'm a very passionate designer, but I feel like if you're always improving you will potentially stay on what sometimes feels like a hamster wheel of keeping up with need.
What we found with COVID is that the system wasn't flexible enough, and the system wasn't funded well enough and it was fragmented and convoluted and disconnected, and all of those things. And that's because people were improving things within their spaces, but there was no innovation happening.
I think that's why innovation's so important, because in the day-to-day you're improving things, but you need to take some risks and take a futures perspective. And if you can jump a few years into the future—using innovative methods, futures design, or futures thinking—I think that you'll actually have a more sustainable and efficient organisation. It's difficult to measure, but my gut would say that in the long run it would make your organisation more sustainable to events like COVID and the bushfires to understand multiple futures and avenues for organisational sustainability.
I'm a very passionate designer, but I feel like if you're always improving you will potentially stay on what sometimes feels like a hamster wheel of keeping up with need.

Gita Chetty
When we're thinking about these really big systemic challenges like mental health and climate change, it's common for a project to be about, "What are the quick wins?" It's exciting when you come across innovation briefs thinking 10 years, 20 years, 30 years ahead and how do you backcast from that and design futures that sit in that. Which is what I'm hearing from you. It's really exciting.
I think what 'futures' gives you is that understanding that there are futures, it's not one future, it's many, and you are in control of it. And even as individuals, as humans you think about your own future, actually, you think about the amount of possibilities there are and it actually gives you control as to what you want to do.
The benefit of using futures thinking is really about being able to show the organisation, "Here's a probable future. Here's a preferable future. Here's an extreme future you don't want." And actually thinking about some of those macro and micro trends that are going on opens the eyes of the organisation, and it also gives the organisation self-control and responsibility to take action.
We have a responsibility to understand that potentially there's going to be bushfires and pandemics, and whatever else is coming in the future. And there's a responsibility to design robust services and products and understand what's happening.
And as you brought up before, being flexible in the way that we design those as well. Being able to pivot and shift is going to be critical I think.
Gita, is there something that you want to reflect on in the design practice before we wrap?
I wanted to share how important access to services are and will be in the future. This move to low intensity services and supports and tools—I think that's really awesome in supporting people who can access them—but there are lots of people around Australia that can't, for whatever reason. Whether that's geographic, whether that's digital literacy, whether that's mental health literacy. Shame is actually a really big factor that we don't talk about enough in terms of access to services and being able to be well.
Can you tell me a little bit more about that?
One of the things we found in our research is, we talk about self-stigma and societal stigma, but we really need to talk about shame. Shame is really the undercurrent of all of those things. If you stigmatise people as a community, it's because you feel ashamed of those people. If somebody feels stigmatised, that feeling's actually shame. And I am wondering if language has something to do with how we could potentially resolve some of these things.
When you think about the English language and the way we use the word 'shame', through research we realise it's definitely how people feel, whereas stigma is what we say somebody's experiencing. Stigma is placed upon someone, but shame is actually the feeling that they have.
I've been thinking about that and how if we looked at shame when we are designing, how much that might change the way we design services. It's very early thinking, but there's actually been quite a lot of research overseas as well.
It's interesting how potentially such a small switch could mean a whole new way of thinking about how we work with people and then design with them. I'd be fascinated to hear where that journey goes and how that feeds into future work that you get to do at Beyond Blue.
Thanks, Mosh. It's always lovely to speak to you, and always lovely to speak about how we feel about design and the work we do in mental health. So, thank you for the opportunity.
Gita, it's lovely to get the chance to chat. Thank you.
We have a responsibility to understand that potentially there's going to be bushfires and pandemics, and whatever else is coming in the future. And there's a responsibility to design robust services and products and understand what's happening.

Gita Chetty