We are honoured to be bringing home two Gold and six Winner trophies from the 2023 Good Design Awards.

This year, we celebrate this win alongside our partners, co-designers, and collaborators across a range of categories: Design Research, Service Design, Architectural Design, Digital Design, and Social Impact.
Thank you and congratulations to everyone who made this possible. Read more about our winning projects below.
Dora: An audio companion for the expanded Art Gallery of New South Wales
Gold Winner: Digital Design - Apps and Software
Gold Winner: Digital Design - Interface

Dora is an audio companion that lets visitors into the Art Gallery of New South Wales (AGNSW) and engage with art in new, deeper ways. Designed as an 'eyes up' experience, Dora blends into the visitor experience and connects visitors to art and culture through a mosaic of music and the voices of artists and curators.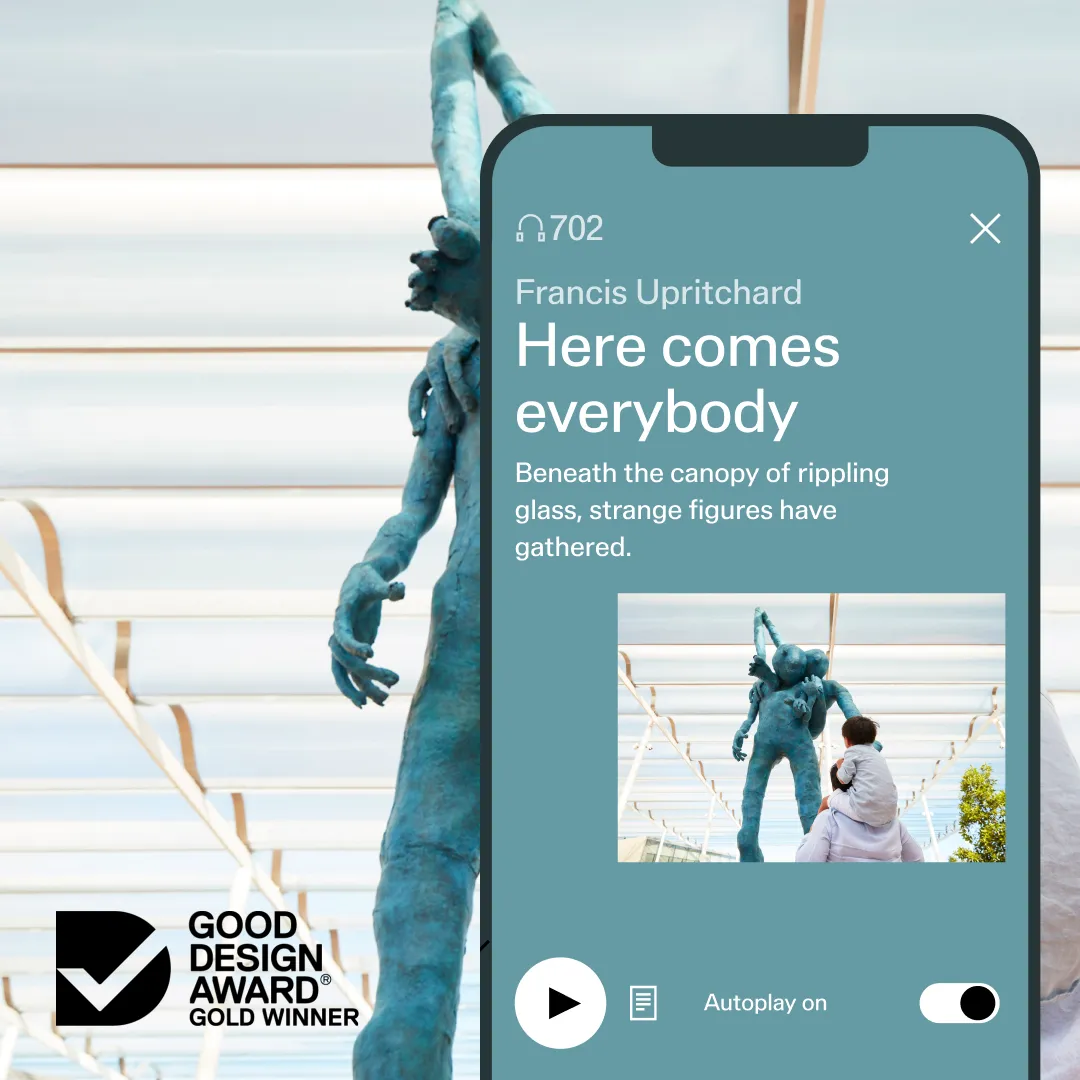 Gold Winner: Architectural Design - Installation Design
Developed as an immersive and interactive space to "pause, reflect, and contemplate brighter futures", the Today Pavilion was inserted into the humming milieu of Purpose Conference 2022 at Eveleigh's Carriageworks.

Alongside Studio Edwards, we designed a co-creative space that would invite collaborative conversations on a brighter future; facilitated by a live musical performance and an interactive digital experience. The transient architecture provides conference attendees with a memorable spatial encounter that encourages inhabitation, congregation, pause and reflection.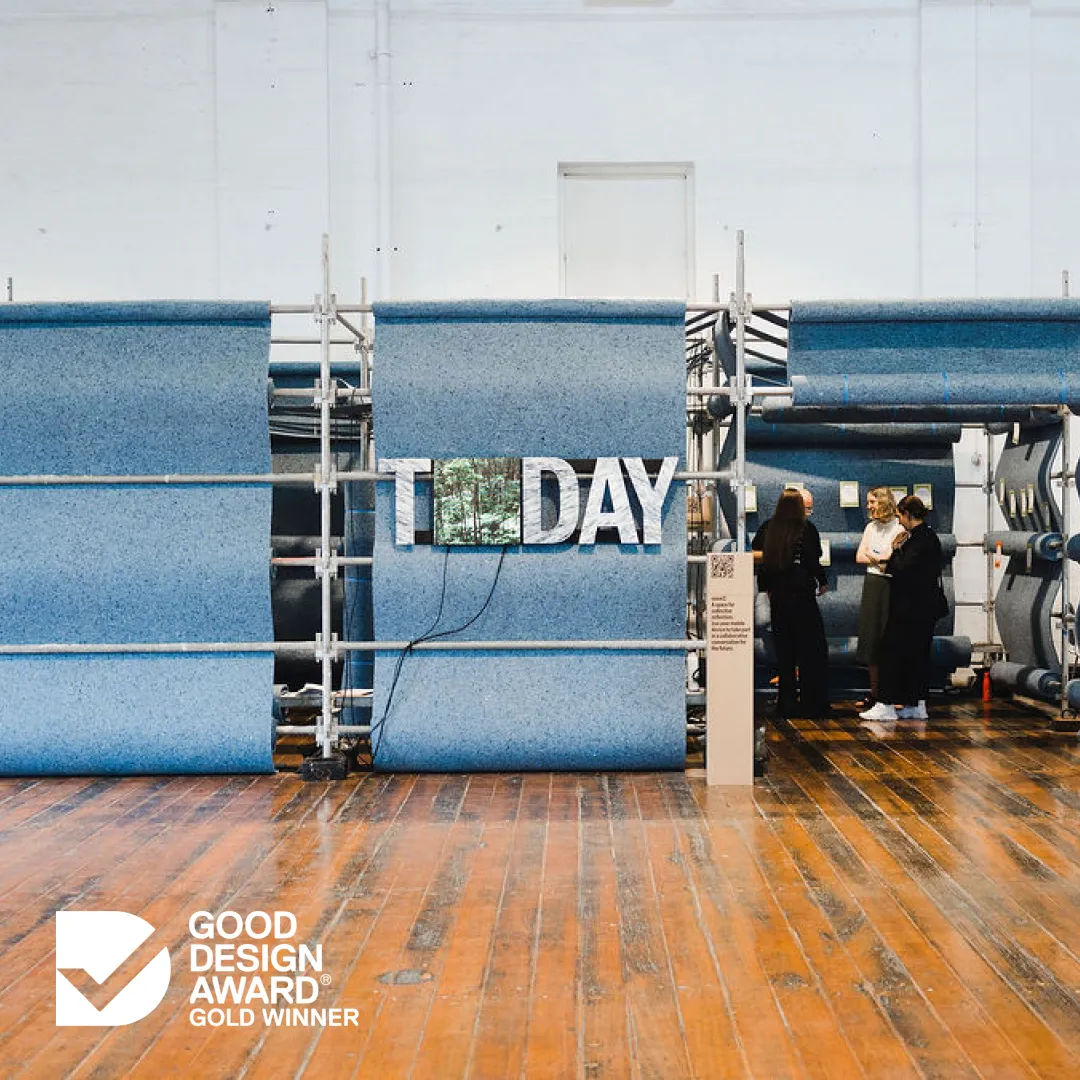 Co-creating an equitable and inclusive future for football with Nike Pacific
Winner: Design Research

What could the future of sport look like? Together with Nike and an impressive Gen Z co-creation team, we imagined what the future of football could be on the biggest stage of all.
We invited 24 young women, girls and non-binary people to share their vision of sport by empowering them to respond to a different brief each day. The result was an emotive, digital storytelling tool unlike any research output we've made yet—an insights tool full of our Gen Z collaborators' own creations: videos, playlist, collages and voices.
The insights will continue to inform Nike's brand leadership and roadmap into 2023, in pursuit of a more accessible, inclusive and equitable sector.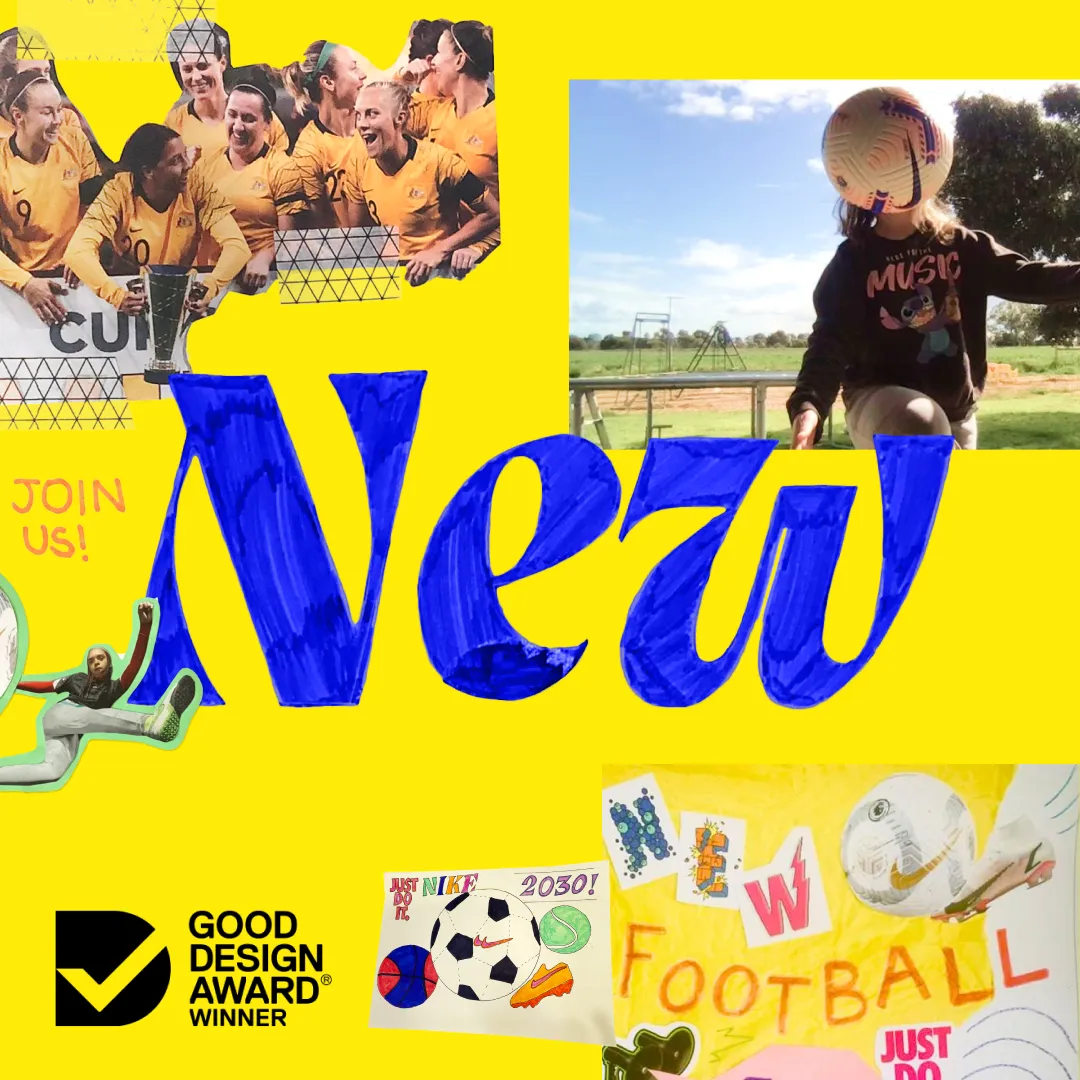 Brimbank-Melton Infant, Child, and Family Mental Health and Wellbeing Hub
Winner: Service Design - Public Sector Services
The Brimbank-Melton Infant, Child and Family Mental Health and Wellbeing Hub is a community-designed mental health and wellbeing hub for children and families.
Mental health and wellbeing hubs provide an easy and accessible way to get treatment, care and support. We worked shoulder-to-shoulder with the communities of Brimbank-Melton to co-create the end-to-end experience of hub access and usage, keeping diverse community needs at the forefront.

We collaborated with clinical practitioners, service providers, and 42 community representatives to co-produce a detailed service design. Together, we developed a community-led vision for the hub, stepping beyond co-design (designing together) to include lived experience throughout planning, design, delivery and evaluation.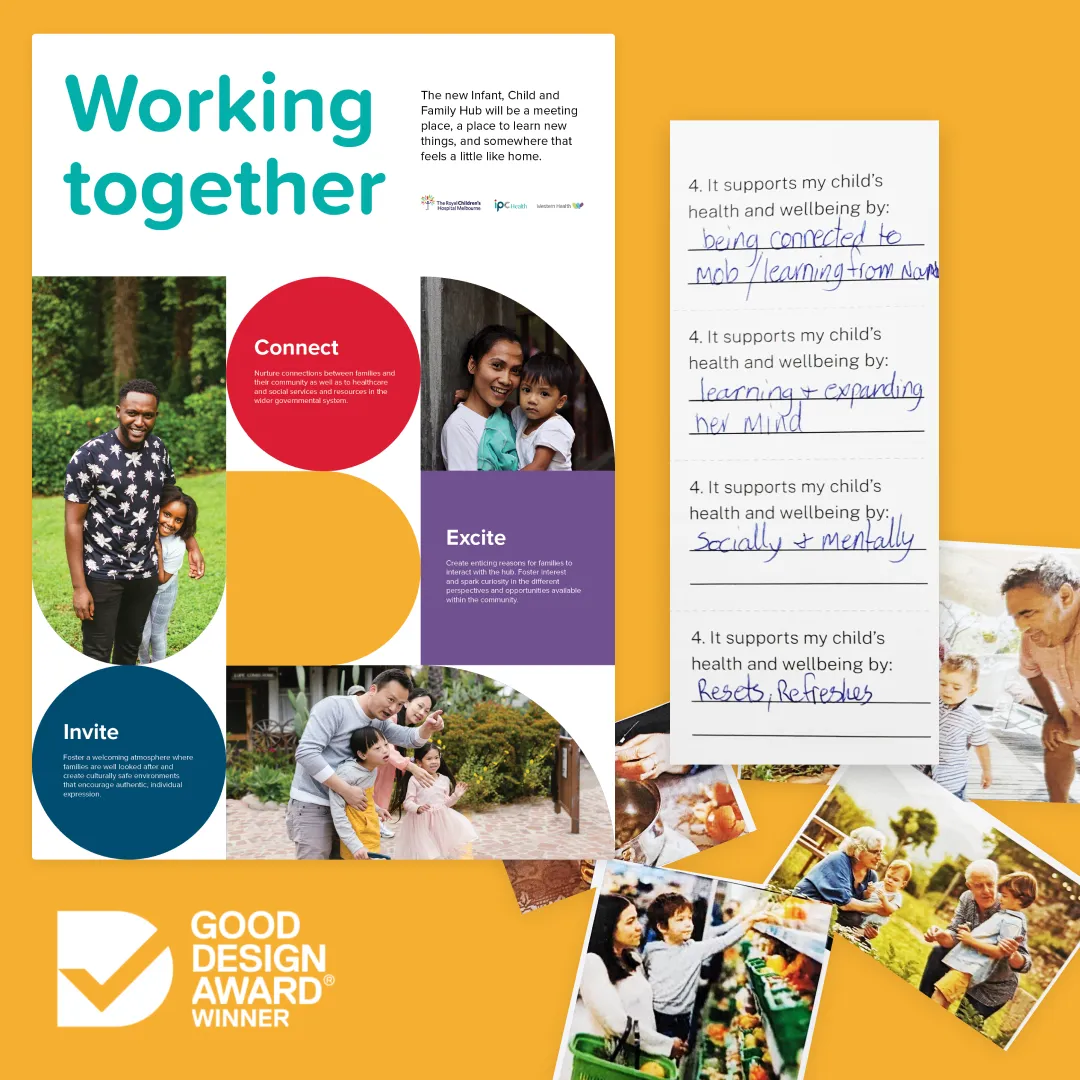 Reducing isolation and loneliness through social prescribing
Winner: Service Design - Public Sector Services
Winner: Social Impact

'Social Prescribing' is a
new initiative embedded within the Mental Health and Wellbeing Locals to connect people with community-based activities that best meet their interests and needs. 32 consumers and carers came together to co-design the service model of 'social prescribing', reimagining how we support people (including their carers, families, and supporters) through non-clinical, community-based activities.
The solution is being trialled across six locations, supporting Victorians to be included in, and connected to, their communities.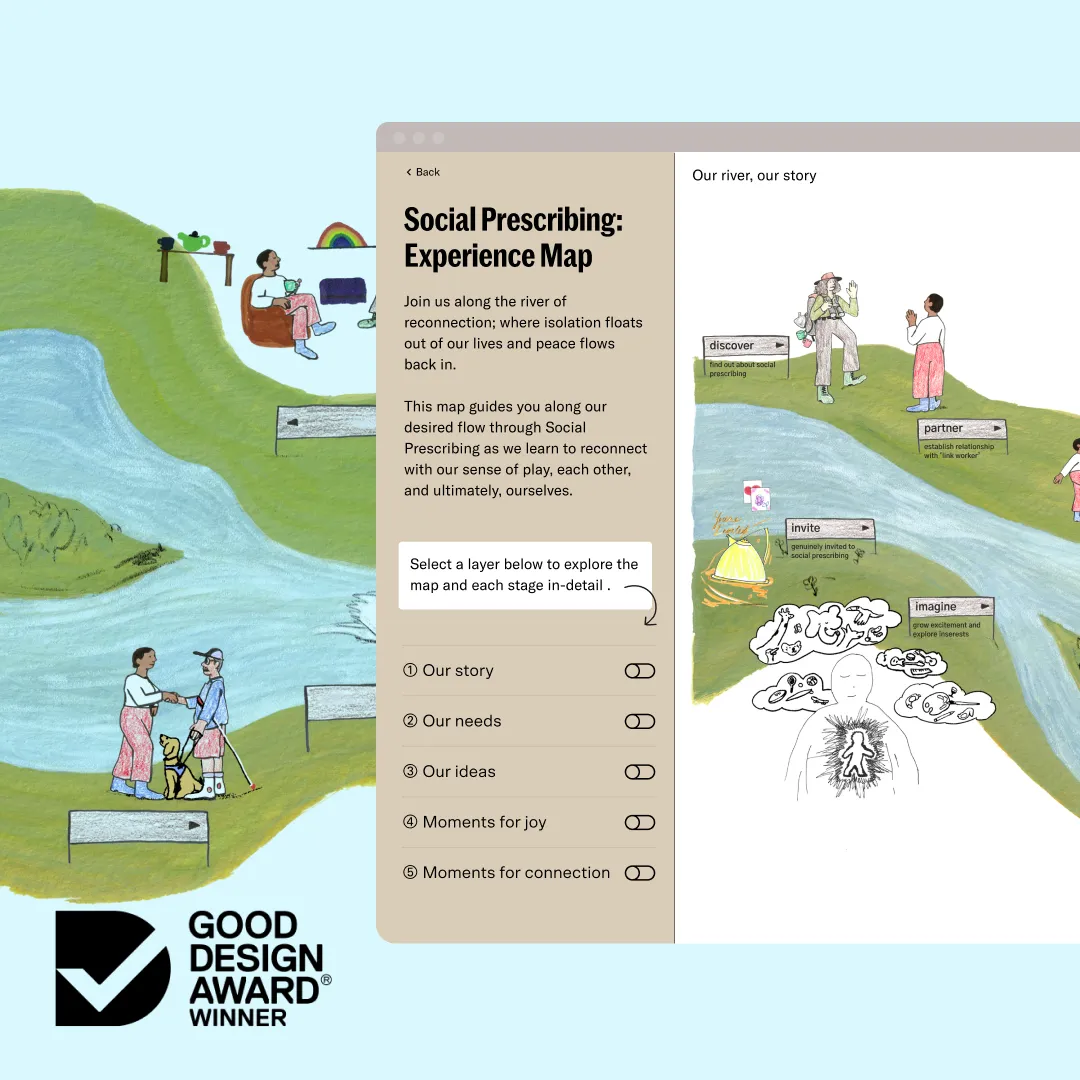 BlueRock: big thinking for your next adventure
Winner: Digital Design - Web Design and Development

BlueRock are a visionary, creative and entrepreneurial bunch who do professional and financial services differently. They are a fellow B Corp, and they genuinely care about social and environmental impact.
They needed a next-generation website experience that inspired their customers, who come to them because they do things differently. We ran a participatory, iterative design process to get to the heart of what that really meant and how it should be expressed in the design.
The new BlueRock website helps customers understand what they do, but more importantly it helps get them excited about having BlueRock as a partner in the adventure of business.