What are we talking about when we talk about "community"? Over the last few weeks, we've been exploring what community means to different people, how we connect with each other, and how we might do it better in the future.
For part four of our community series, Callan Rowe, Innovation Lead at Today, sat down with Kelly Ann McKercher, designer, writer and artist, to discuss their book, Beyond Sticky Notes , and unpack what good co-design could mean for communities.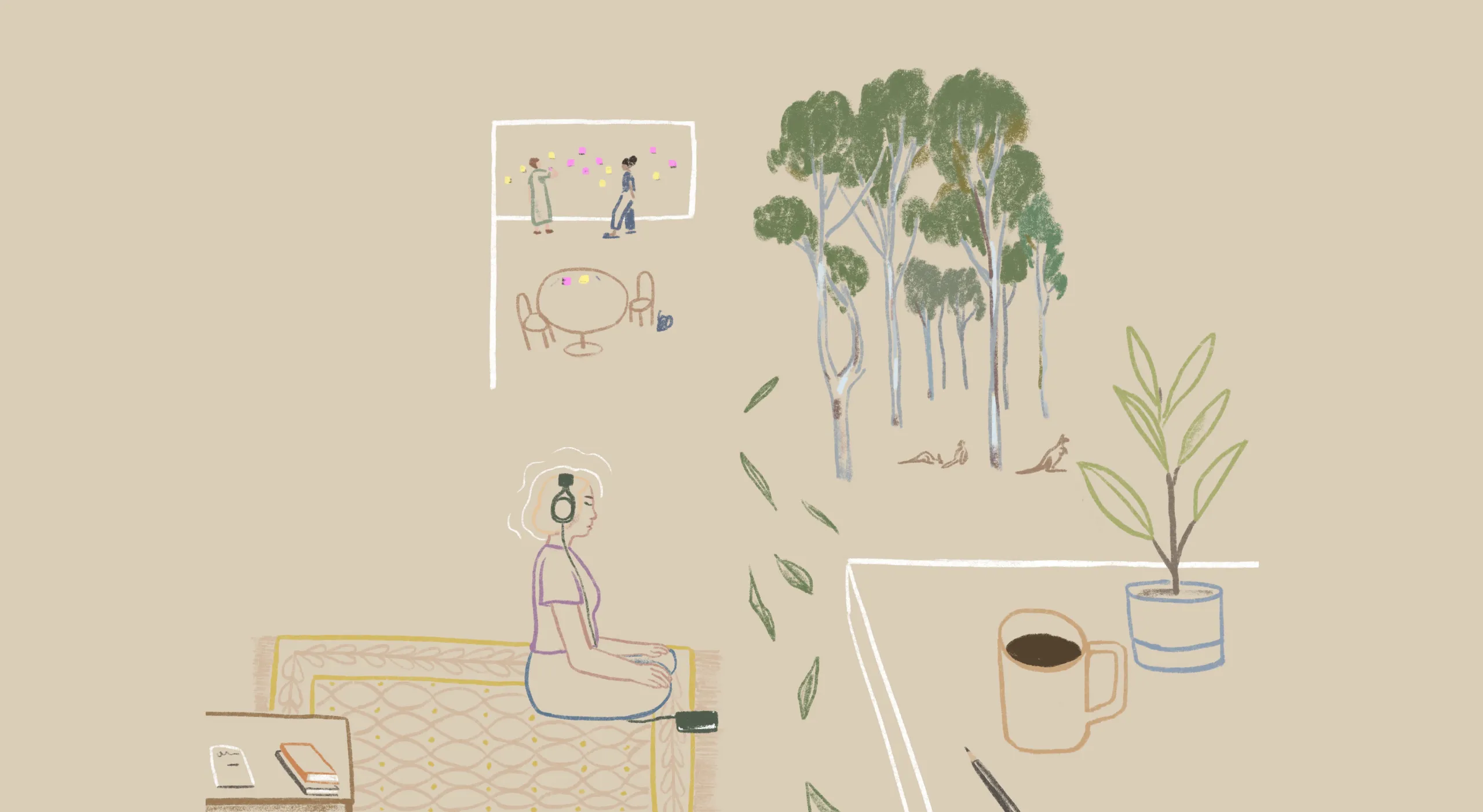 In conversation
Kelly Ann McKercher, Designer, Writer, Artist and author of Beyond Sticky Notes
Callan Rowe, Innovation Lead at Today
Hi Kelly Ann, would you be able to start by introducing yourself and sharing a little bit of your personal history.
Sure, fantastic. Kia ora, my name is Kelly Ann McKercher. I'm a designer and writer and artist. I was born on Te Kahui Maunga lands in Aotearoa, New Zealand, but I live on stolen Wangal and Gadigal Lands here in Sydney, Australia. By way of, I guess, work history, I come from a design for social innovation and cultural anthropology background originally.
For the last 10 years or so, I've worked across a whole heap of different design agencies, some with more commercial persuasion, some with more social persuasion, including for the Australian Centre for Social Innovation, which a lot of that work was really about re-imagining structures and systems and networks of care.
I currently work for New South Wales Government in a strategic design role and also run a few different communities of practice that are trying to elevate the quality but also the cohesion of co-design and participatory design practises in Australia primarily. That's me, probably in a nutshell.
I have recently read the book that you've put out this year—Beyond Sticky Notes—and I can't recommend it highly enough. I just really bloody loved it. Can you tell us a little bit about the story behind that and what motivated you to write this book?
I guess this book started probably eight or nine years ago when I found myself a fresh-faced designer out of university and was trying to work on a number of social innovation and social impact projects and found myself really poorly equipped to do that. Completely unaware of who I was trying to work with; communities that were really very different to who I am, and the kind of privilege that I enjoy as a white person who grew up in a very safe, loving, supportive and well-off family. And secondly, I'd ventured off into social land not realising that people inhabit that full time, that social workers do so, that community workers do so.
The book is really a synthesis of many of the things I've learned over the last 10 years—as we step off that well-worn path of commercial design to social design, what is it we need to take with us?
I got very sick of talking to people about co-design and talking to people about what the difference is between consultation and co-design. So I thought, geez, wouldn't it save us all time if I wrote this into a book and suggested that people read the book. And one of the motivations too was I wanted to say a lot more about the social movement side of co-design and the mindsets of co-design.
The book is really a synthesis of many of the things I've learned over the last 10 years—as we step off that well-worn path of commercial design to social design, what is it we need to take with us?

Kelly Ann
I think that's what I found fresh and quite energising about the book, was that framing of co-design as a social movement. Can you talk a little bit more about what you mean by that?
I believe at its heart that co-design is about transforming inequitable power structures and it's about the recognition that we all deserve more quite frankly, that we deserve to be more involved in the decisions that shape our lives, our families lives, our community lives. And that process of coming together and deciding together is at the heart of doing that, and at the heart of a participatory futures type of approach. So in the book, I particularly talk about the types of systems norms that we need to move away from and towards if we're to adopt this idea.
Things like: we don't make decisions on behalf of people or for people, but we decide with people; we don't talk about people who are historically underinvested in as a burden, that we think about them as full of creativity and resilience and capability should there be the right types and conditions. And then the other really essential one is this social movement away from homogenous services and systems, and into more of a pluriversal type of approach, where dimensions of difference are not simplified down into a beautiful set of insight so one single service model, but there are many worlds, so many different identities can live and be supported.
Maybe it's aligned with the rise of UX, but it feels like there has been a sharp swing of design as a business tool with the commercialisation of a lot of the language around design. Is that something that resonates with you?
I feel a bit uncomfortable when I hear people say, "these are designers and non-designers," or, "design started in the '50s," because really, design is a very human impulse and Indigenous people here in Australia have been designing for thousands and thousands and thousands of years. I think you're right though that there's been an attempt to package up design very neatly to sell it. I think what I'm seeing, however, is a deliberate undoing of that, and what's replacing that is some more non-linear nature-based organic language.
Not, "this is a process that has seven steps," but, "this is an ocean, a garden, whatever." I think that starts to take away from that commercial language which has such rigidity and structure and commerce-based purpose.
I noticed that a lot of the language that you use has a bit of spirituality to it, you quoted a Quaker mystic in the book club that we went to for example. Talking about these less linear structures brings to mind ideas of Eastern ways of thinking and Indigenous ways of thinking. Can you talk a little bit about how—if at all—spirituality has influenced your thinking?
It's a good question. So this is quite literally not a joke, but my dad is a wizard so that's certainly been quite a strong alternative frame. I grew up in a Buddhist household, so I guess lots of things that I learned as a young person, the stories that I was reading as a young person were a lot about interdependence. And as you say, that's something that we don't often have a very good sense of in the West, being much more focused on independence and competition. So maybe some of that stuff is a bit like breathing, but if it's always been around you, it's hard to say exactly where that's coming from.
I definitely read a lot and listen to a lot of poetry and theology. And there've been a few people particularly, some of the Quaker writing, some of Pádraig Ó Tuama's writing, some of David Whyte and John O'Donohue, who are of that Irish tradition as well.
I find that the language that they use feels big enough and beautiful enough to describe some of the things we're trying to talk about. And I don't feel that some of the commercial language we use adequately describes how much we are bringing ourselves into the work we do. And if we're not doing that, it can only ever really be transactional rather than transformational to self and others.
...co-design is about transforming inequitable power structures and it's about the recognition that we all deserve more

Kelly Ann
I've been noticing more and more the parallels between all of these really, really old and beautiful ways of phrasing the interconnectedness of things and then some of the more academic ways of thinking about it like systems thinking. And it does feel like that's maybe an element that has been ignored a little bit in co-design, or in design thinking.
One of the lessons that I feel I've learned, relearned, learnt again and kept learning is the relational or the relationships part of design. It's so uncommon across commercial design practises to see relationships being named as the work, as opposed to a nice accessory to the work. It's almost like all the real work is doing journey maps and personas and interviews, not building and strengthening relationships that—for me—are the thing that ultimately pays off across a design process. We can create tools, but they may never get any kind of purchase inside of the system.
Can you talk a little bit more about building relationships as a goal and what that looks like in practice, as opposed to some of these more artefact based outputs?
For me this is a couple of things. So when we're convening a group of people, we want to bring a group of people together to learn from each other or figure out what's gone wrong, or dream or whatever. If we're taking a relationships-based approach, for me that means connecting with people one on one before I expect them to come together as a group. So that might mean having a cup of tea, having a chat over the phone, asking questions and trying to understand their frame of reference, expectations, triggers, hopes ahead of that session. So that when we go into it, we have some fabric of connection with each other. I think that's really important for listening anxiety.
I think we forget it can be so frightening to join a group or to learn with other people, particularly people who have had more positional power or social power than we have.
It also means that when we bring people together, our first focus is on further strengthening social connection. So when I'm bringing a group of people together, the first thing I'm doing is getting people to know each other better. And that might happen in kind of a smaller circle first in pairs or threes, where people have a conversation about who they are beyond their titles, or beyond their professional histories. The goal is to keep strengthening those relationships all the way through the process, through conversations, through activities, and through slack time, where we're not just expecting people to get stuck in and do the activity. Because dialogue is an activity, talking is an activity, it doesn't have to always produce an output.
I'd like to understand what community means to you.
For me, the first thing that comes up is I don't think there's such a thing as community, I think there are communities. Multiples. As a migrant to Australia and a person that's not from Australia, being part of communities means being able to show up with all the parts of myself in a certain kind of context. As a queer person, that means being able to find pockets of other folks who have similar experiences and desires, and for that to be safe and gentle and hospitable. In other parts of my life where it's like an interest-based thing—where I want to sing or play music or sew or make things—I think about those more as communities of practice and craft where yes, hospitality is important, but play might be an even more important aspect of that.
One of the other themes that we've talked about with a few folks—especially in the context of the Melbourne lockdown and the 5K radius that we were under for a while—is this idea of community becoming more dislocated from place. Some of the conversations that we had around that was, it felt like this kind of being forced back into place almost was a shot in the arm for that feeling of local connection. Does place play a role in community for you, or do you think that that is something that we are moving away from?
I think both things are true. I think we are possibly increasingly connected to our place. So for me, we live in a unit of apartments and particularly through the lockdown time we have come to know some of our neighbours quite deeply that we just haven't known before. Because there's quite a lot of practical conversation about, "I'm going to be really noisy in my house today, is anyone having a meeting that I should be aware of?" Knowing that so many people are working from home. I've become increasingly aware of the birds that live in the tree outside my office and what the neighbours are doing in their backyard each day and I'm quite aware of these things. And at the same time, I feel like COVID has opened up these doors to a lot of communities of practice that are in no way connected uniquely to this place, but quite diverse in being international.
I'm noticing though how people are still attempting to connect to place inside the virtual setting. Recognising that the virtual world is a kind of place and that we can still have rituals and protocols inside the digital world, particularly living on Indigenous lands. I think for me personally, the dislocation is more about not being able to go home, or not being able to travel outside of New South Wales, or this limited mobility. But at the same time, I feel like I've had way more conversations with way more interesting people and even my friends and family through COVID than I have in the last 15 years.
...dialogue is an activity, talking is an activity, it doesn't have to always produce an output.

Kelly Ann
Building a sense of safety is something that's really important for both a healthy community and a good co-design project. Have you got any advice for how we build safe spaces?
One of the main frameworks from the book is this idea of a model of care for co-design. So in the healthcare industry, we have models of care for everything. We have a model of care for having a baby, we have a model of care for having diabetes, we have a model of care for every illness group.
What I don't think we have is a clear sense of how we care for ourselves and each other throughout a collaborative design process. So in that model of care, it's broken into three parts. The first part is about all the things that we do before we get in a room together. I think we overestimate how easy it will be for someone to come to us or to come to our workshop or to feel comfortable sharing their story or experience.
Some of those techniques that are used before we get into the room are really about what I talked about earlier of building one to one relationships with people, but also removing really practical barriers like, "I can't even get there. I need childcare. That facility is really traumatising for me because it's affiliated with some kind of institution or religious organisation that's harmed me or my community in the past."
The things that are about being in the room together are really a lot about preparing professionals to share power and not to do things that are not deliberately undermining, but they feel horrible. Like asking a person with lived experience if they have a job, or asking them if they have a qualification. And then when they say, they have lived experience saying, "Oh, well, you just have lived experience." Or showing up with their stethoscope, their gun, their planner, their badge, their flash car, whatever it is that cements power dynamics, rather than challenging them.
Some of the things that I often do in advance is to ask professionals to show up more as a person, as opposed to with all the six things of their profession. And then once we're in the room together I'm often in the early stages trying to mask or not make too obvious who is from what group. So in that kind of convening, I'm often having people's lived experience, professionals and provocateurs. The provocateurs are people who are helpfully outside of the context. These are people who are able to ask very naive and helpful questions about why things have to be a certain way.
I think there's also a lot to be said about how we adapt design methods for safety. So for example, journey mapping can be a very re-traumatising experience, particularly when you ask someone to remember ways that they were harmed. So instead of that, I might do something like present a series of different images like a constellation, some peaks and valleys, the sea and ask them to choose their own adventure, "Is there an image that for you feels it can say something about this experience?" And then have that be a less linear approach. And then should that be an upsetting experience, then we might use some grounding techniques.
I think there are a great many techniques in that safety area and we can borrow a lot from trauma-informed practice, recovery orientated practice, strengths-based practise, and asset-based community development. In the book, I draw from lots of those different places to build the model of care.
...preparing professionals to share power and not to do things that are not deliberately undermining, but they feel horrible. Like asking a person with lived experience if they have a job, or asking them if they have a qualification. And then when they say, they have lived experience saying, "Oh, well, you just have lived experience.

Kelly Ann
Indigenous community-based organisations have been doing a lot of this type of work for a long time and the design industry is kind of coming to it now saying, "Look what we've invented. This is a new thing." I wonder if you could just talk a little bit about the relationship between co-design and community organisations.
I'll share a few thoughts with the caveat that I don't come from that background, I come very much from a design background. So I'll try to speak about what I know and make some speculations and I'm happy to be challenged on these things by folks in the know. So the first one that I would say is I agree that community development done well, that community organising done well does many of the things that we're trying to achieve in co-design. What I have consistently seen absence of is creative and generative tools being applied to that process.
I think we might be very good at bringing groups of people together, we might be very good at creating consensus and action plans, but the actual relocation of power back to people, for example, to uncover their own stories and the stories of their peers and their community through something like a peer-to-peer research approach, or the actual ability to turn an action plan into a prototype and start gathering real-life feedback about that prototype; those are techniques that I have seldom—if ever—seen in that kind of community development and organising space.
The second part is that advocacy is often born of deep hurt and really deep trauma and frustration with institutions. And some other advocacy approaches from the sidelines or as an outsider, I see those as not creating very much mutual learning. And I think one of the things that co-design done well can do, is create a context at which people who were historically at conflict with each other, are able to recognise they all have something to teach and something to learn from one another.
But the container has to be available to do that because it's not possible just to keep shouting at each other until you're hoarse. I think design offers a tangible tool to do the world-making or the future-making part of things.
...one of the things that co-design done well can do, is create a context at which people who were historically at conflict with each other, are able to recognise they all have something to teach and something to learn from one another.

Kelly Ann
I'm curious about where you see these things heading in the future?
I think that we are already seeing a shift in the focus of design, who gets to talk about design, and who gets to do design. It's moving away from predominately highly educated white people, to folks who are already designing in the context of their lives and communities, including people who have not been able to access a design education.
I hope that we see an emergence of a much more diverse collection of designers and design perspectives, that is at odds with some of the design institutions that we have currently.
I think we might start to realise that co-design is not a project and it's not very well facilitated through a design agency model. And that might start to present to us some different ways of thinking about how this work gets done and how it gets supported in a more sustained longer-term type of way.
I guess the big question that I have in my head is if by very nature services are often things that take power away from people and their capacity to care for each other, as someone that's made a career so far out of being a service designer what is the pivot and what is it that I end up focusing my work on that's good work? And if not services, what is it that we can dream map and do together that provides better outcomes?
Thanks for your time, Kelly Ann.
I think that we are already seeing a shift in the focus of design, who gets to talk about design, and who gets to do design. It's moving away from predominately highly educated white people, to folks who are already designing in the context of their lives and communities, including people who have not been able to access a design education.

Kelly Ann