CARE Australia
Supporting women to defeat poverty.
In partnership with CARE Australia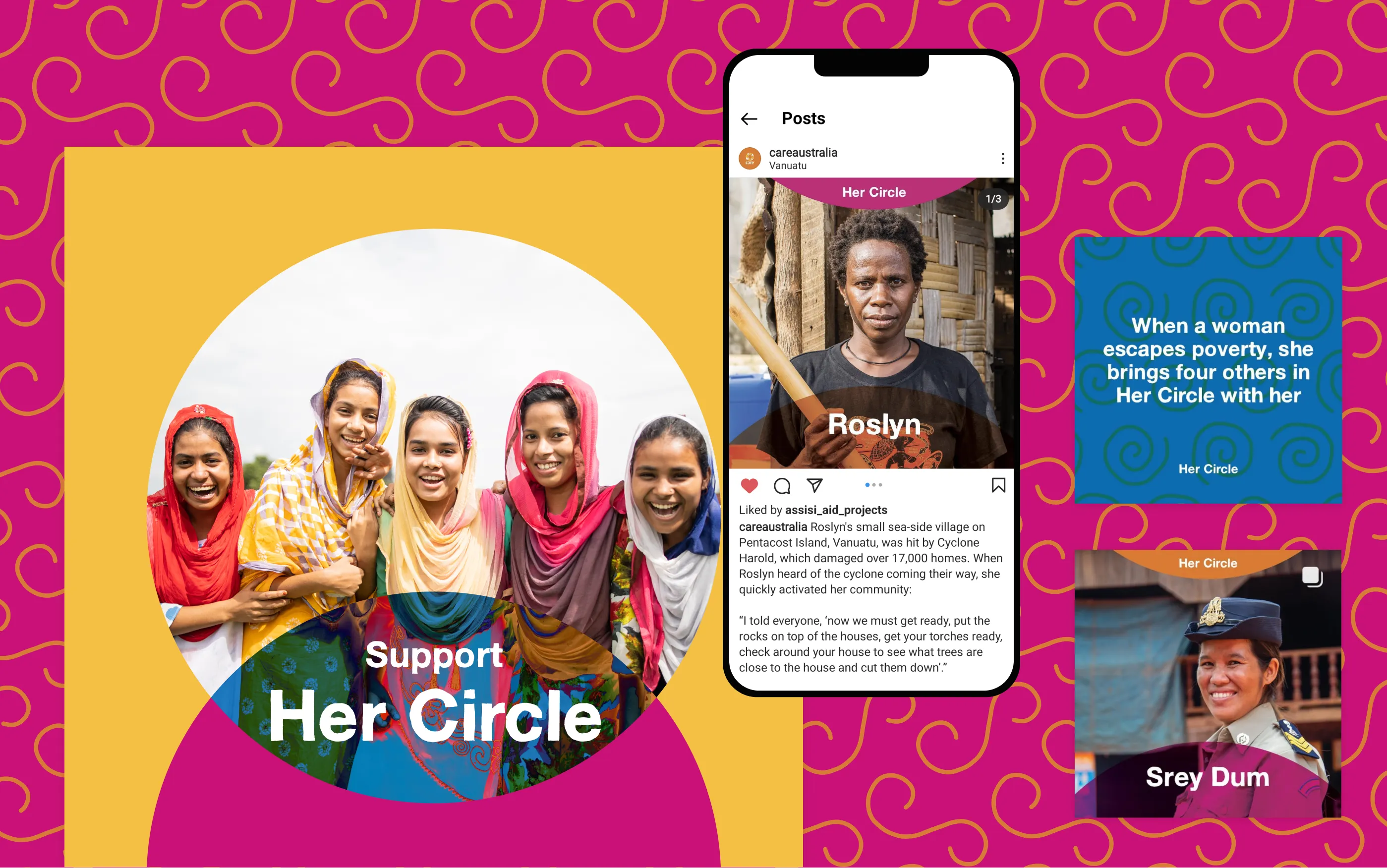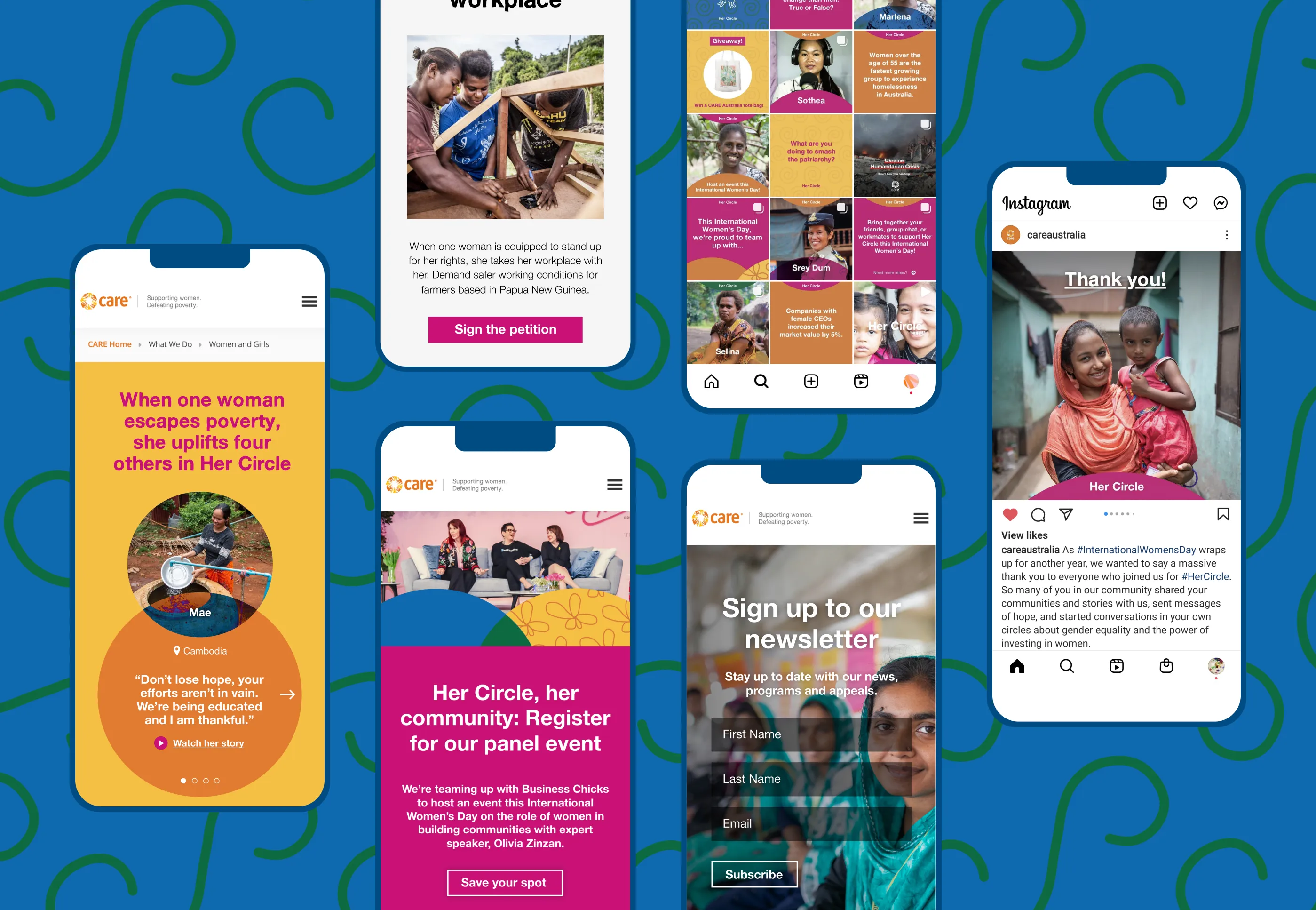 CARE Australia is an international humanitarian aid organisation focused on working with women and girls to make lasting change in their communities.

We partnered with CARE to design a brand activation, strategy, and campaign that would raise greater awareness of their mission amongst a new audience of Australian women, establishing CARE as a platform for women's voices to be heard.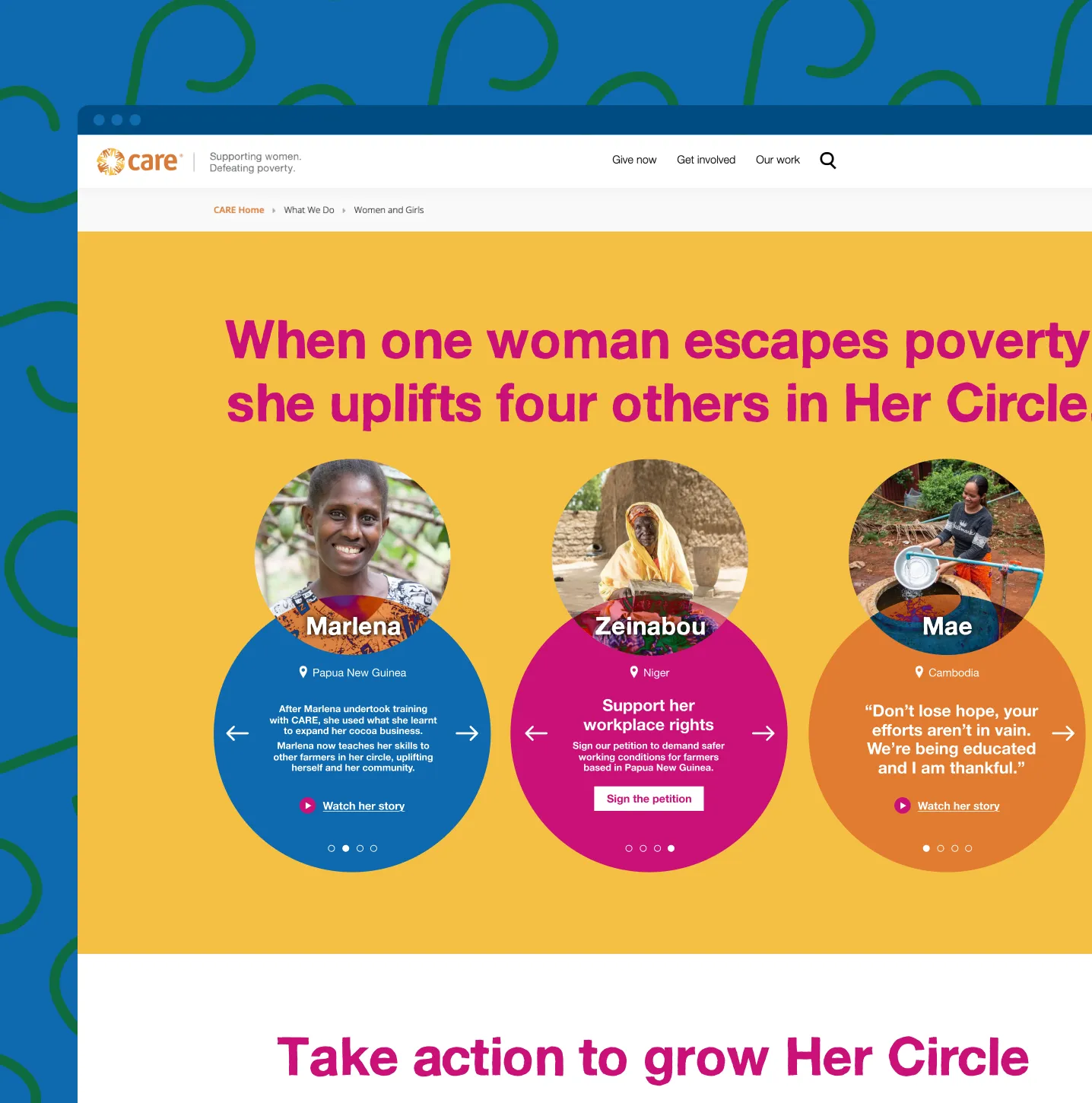 To reach a concept for this campaign, we conducted co-design and research sessions with CARE's target audience of Australian women aged 25-40. We took hypotheses into research, captured ideas and feedback and built out the final concept.

The concept of 'Her Circle' leveraged insights we heard from this audience:
Creating change that could impact many generations is very inspiring and important to them, making them more likely to support.
They wanted to see positive stories that reflected the leadership role that women and girls play in their communities, with communities having agency around how they take action.


'Her Circle' explores the idea that when one woman escapes poverty, she brings four others in Her Circle with her. In her home, workplace or community, she is the change-maker, connector, and mentor that drives change for herself and for those around her.

The campaign asked the audience to bring their circles: whether it was their friend group, team, or network to shine a spotlight on women—and how when she leads, everyone benefits.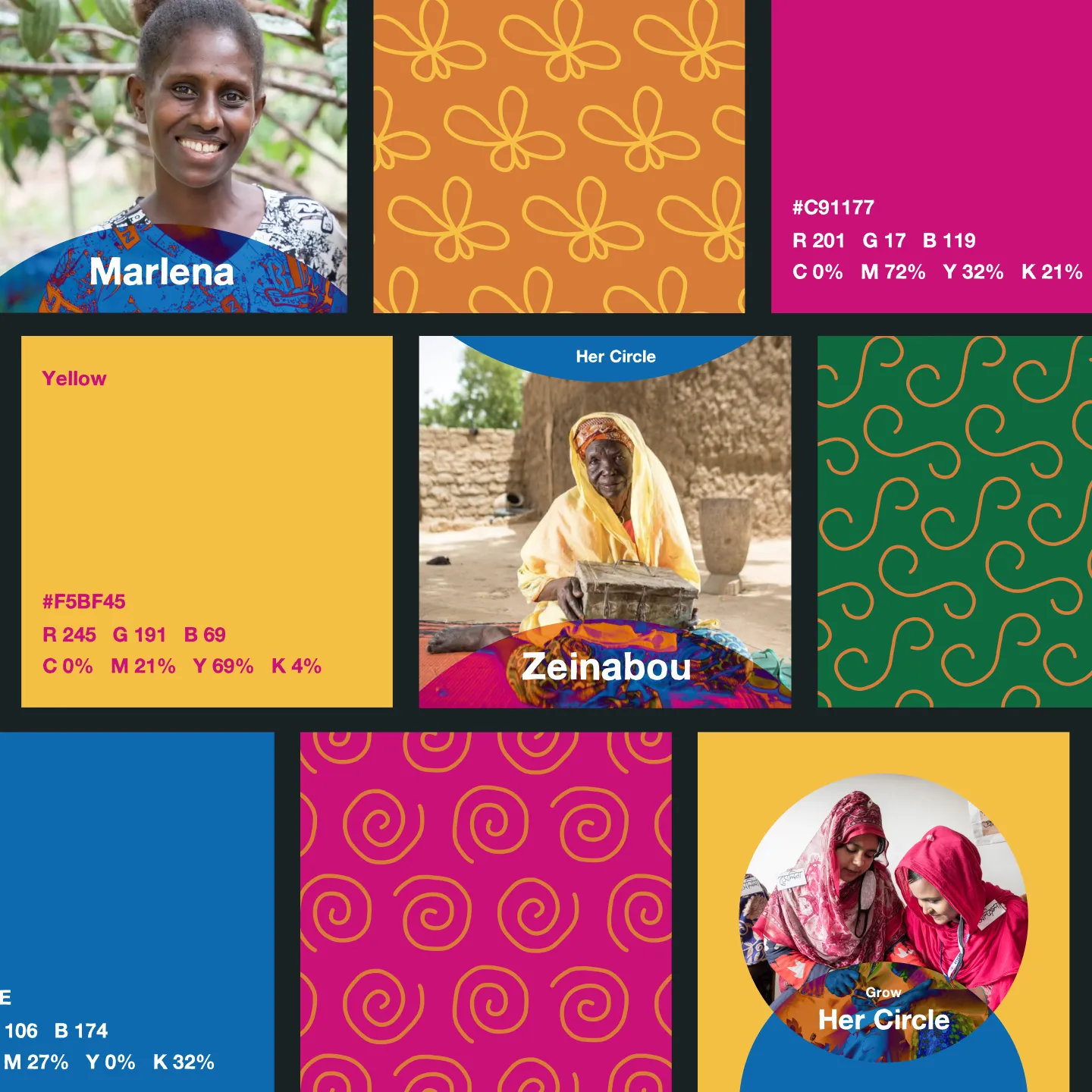 Tomorrow
Launched on International Women's Day, 2022, the 'Her Circle' campaign showcased their work, while activating and centering their brand on the important role women play in communities globally. During the campaign period, there was a whopping 1557% year-on-year increase in website traffic and a 21% increase in brand search.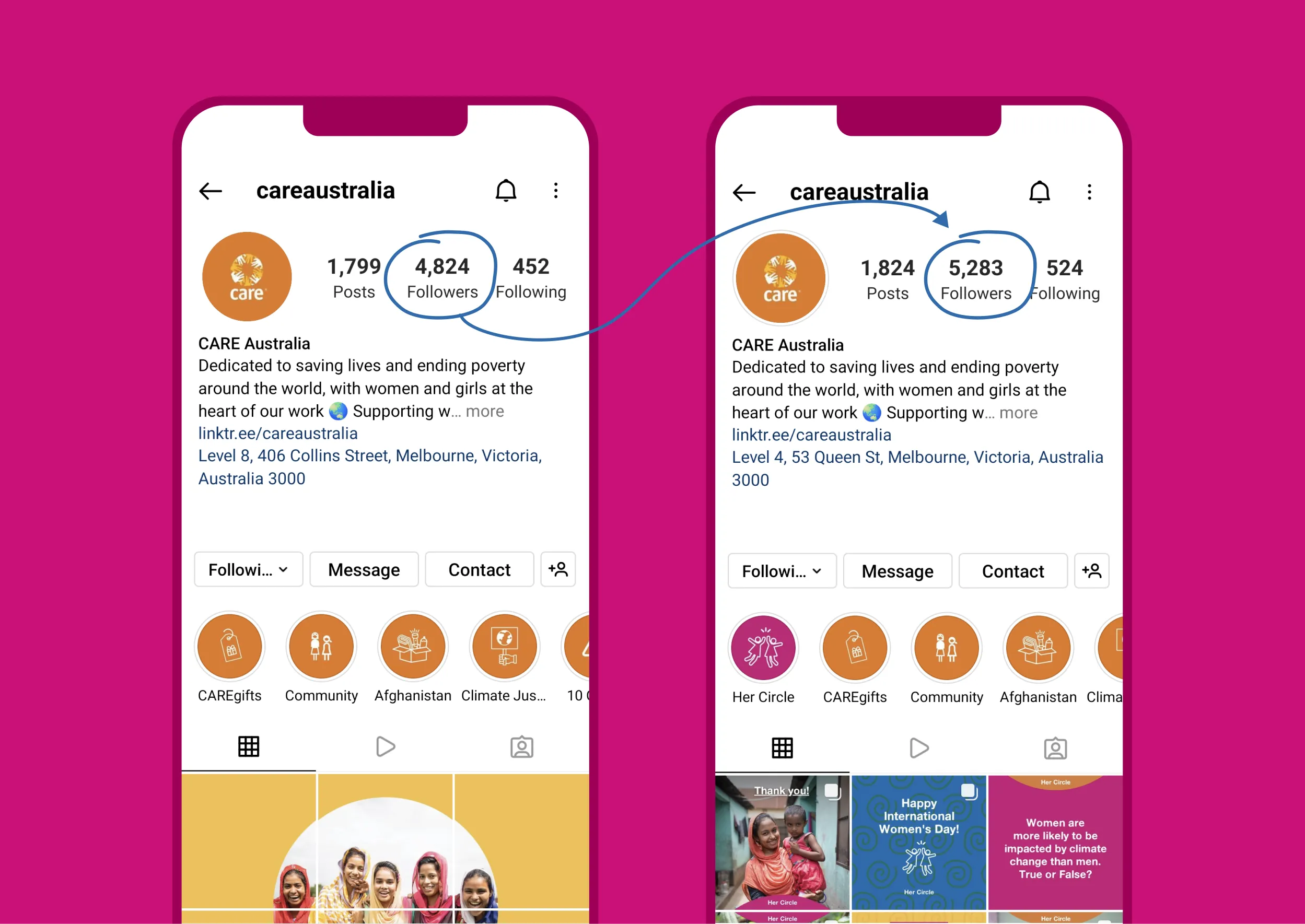 1
Supporting women to defeat poverty is about recognising the power and resilience of women and celebrating them as community builders and change-makers and Today captured the inspiration behind our mission by weaving this positive framing and empowering narrative throughout the design of the campaign.

Méabh Friel, Senior Manager Brand and Marketing, CARE Australia
Awards
Anthem Awards
Bronze in Humanitarian Action & Services
2023
Australian Design Awards
Gold in Marketing - Branded Experience
2023
Melbourne Design Awards
Silver in Marketing - Branded Experience
2022
Get in touch
Learn more about human-centred campaigns. Chat to Mary today.
Mary Nguyen
Business Director
Next Case Study
In partnership with RMIT University and YLab:
Preventing economic abuse in young adult relationships