Gippslandia
A unique digital experience to bring a community to life.
In partnership with Gippslandia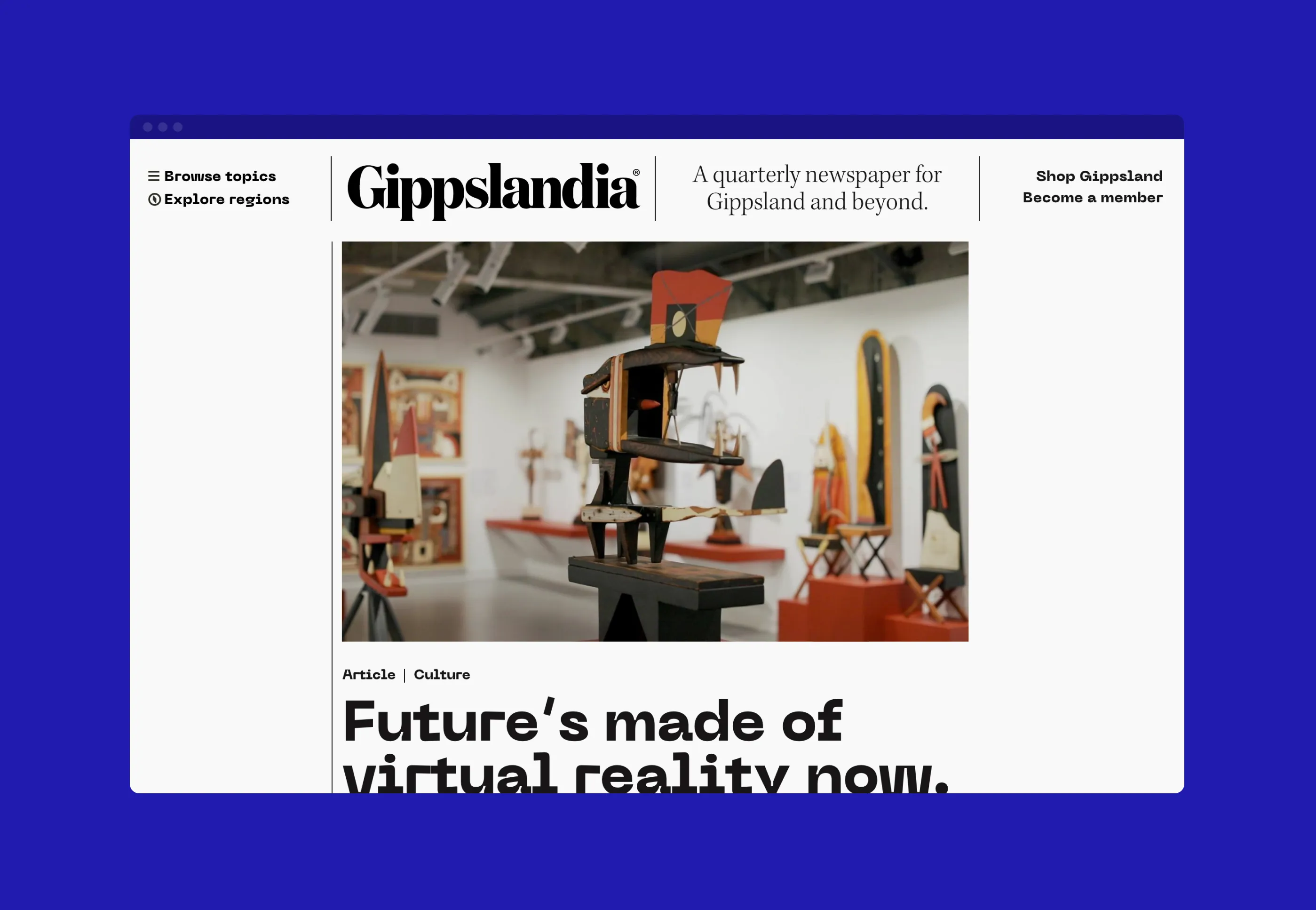 Gippslandia highlights the local makers and creatives throughout Gippsland, curating an ever-optimistic take on regional, national and global issues, in a local context.
It was born from the community, from a small group of creators who have driven this non-profit, to grow into an institution in the region.
Gippslandia came to us to redesign and rebuild their website, to grow their reach and continue to nurture a more vibrant, inclusive and active Gippsland community.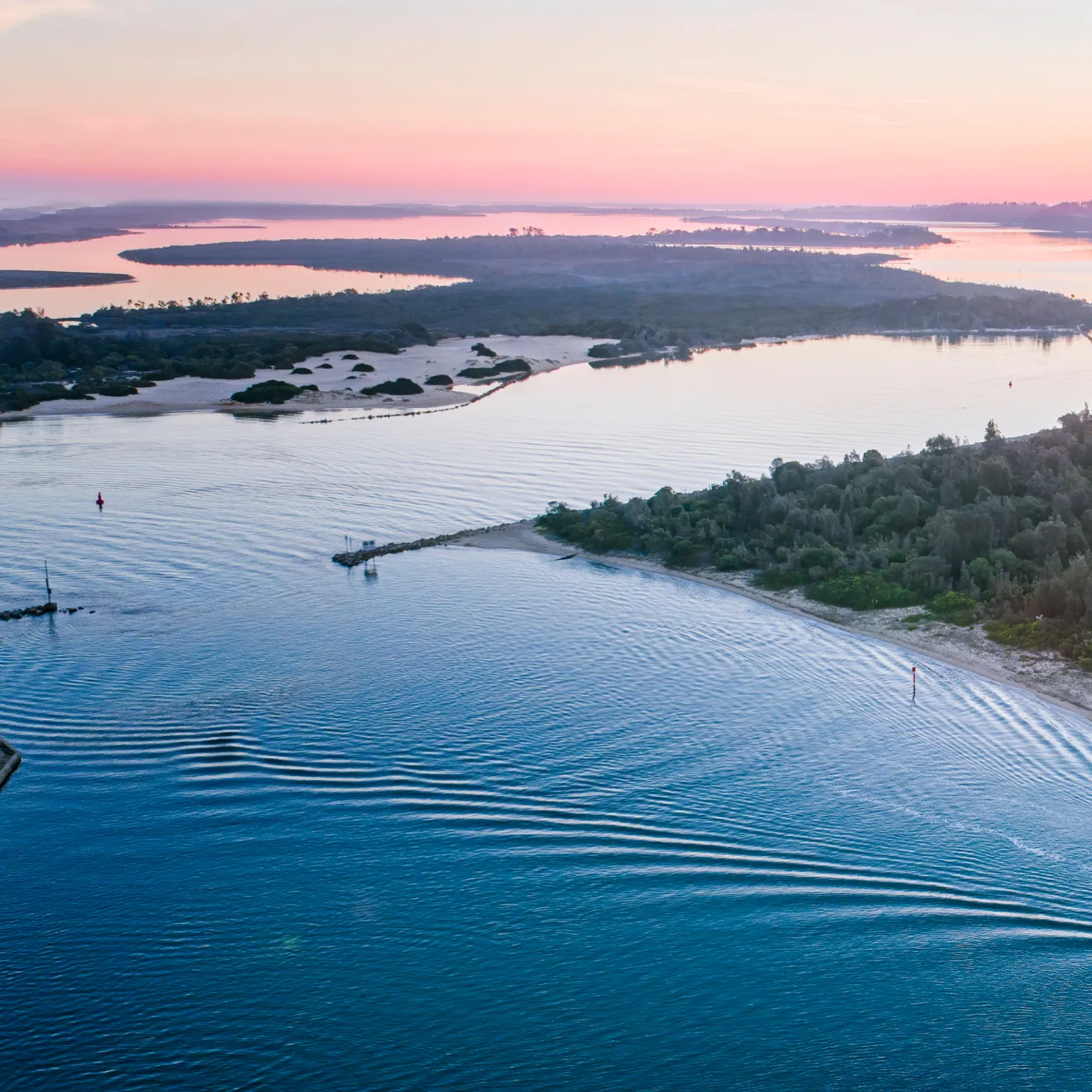 Today
We worked collaboratively with the Gippslandia editorial team to define a vision for the new website.

We set about creating a platform that highlights the change-makers and local makers in the region, including an online store where local makers can share their creations with the world.
We worked with Gippslandia to refine their information architecture and proposed a site structure and taxonomy that would support future content findability.

Alongside the user experience components of an online store and a new look and feel, we built flexible site modules and efficient web management processes.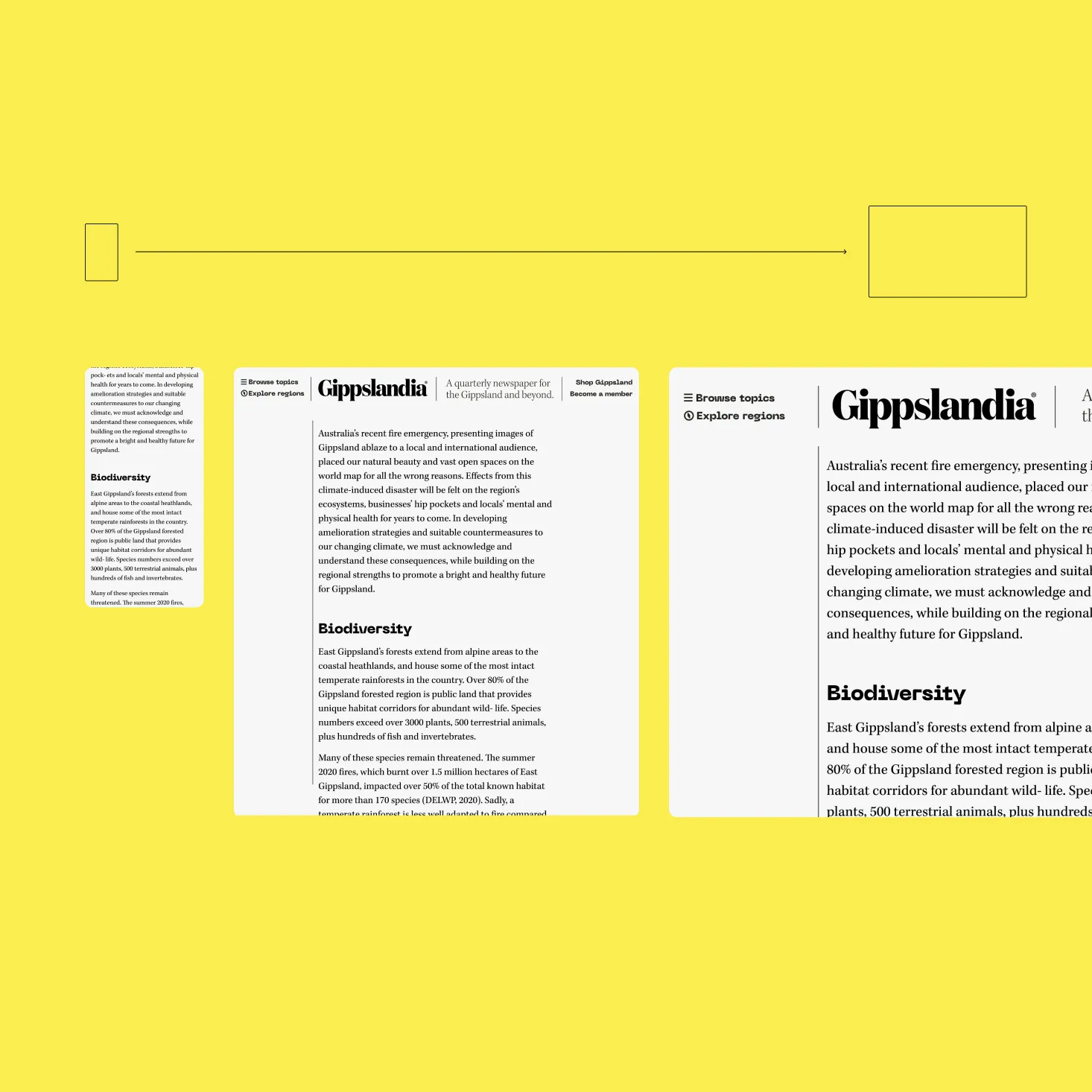 1
Great use of typographical variation to drive not only personality but also assist with wayfinding and structure. Colour has been used sparingly but also to good effect. Articles have a strong editorial presence that compels the reader to engage with the prose. Personality and community just burst out of this website, without forsaking readability, legibility or layout. Great work.

Good Design Awards Jury
With a digital-first design, discovery-based information architecture, and a new technical stack—Gippslandia have an elevated digital presence that does justice to their beautiful curated content.
The refresh has brought forward greater membership functionality as a way to give back to the generous contributors of the paper.
After the devastating bushfires and a global pandemic hit Gippsland hard, this website project was perfectly timed to help breathe vitality back into one of the most beautiful parts of Victoria.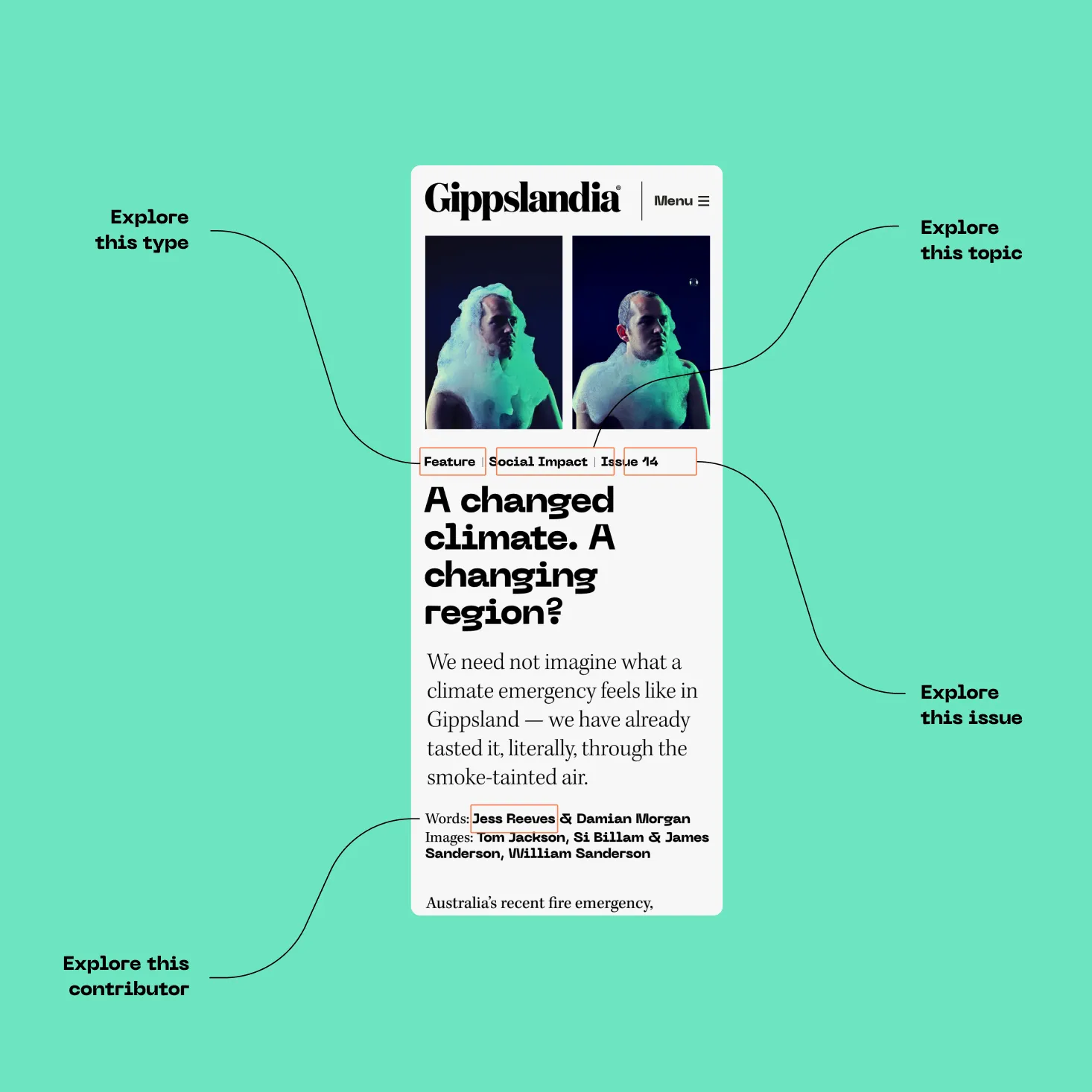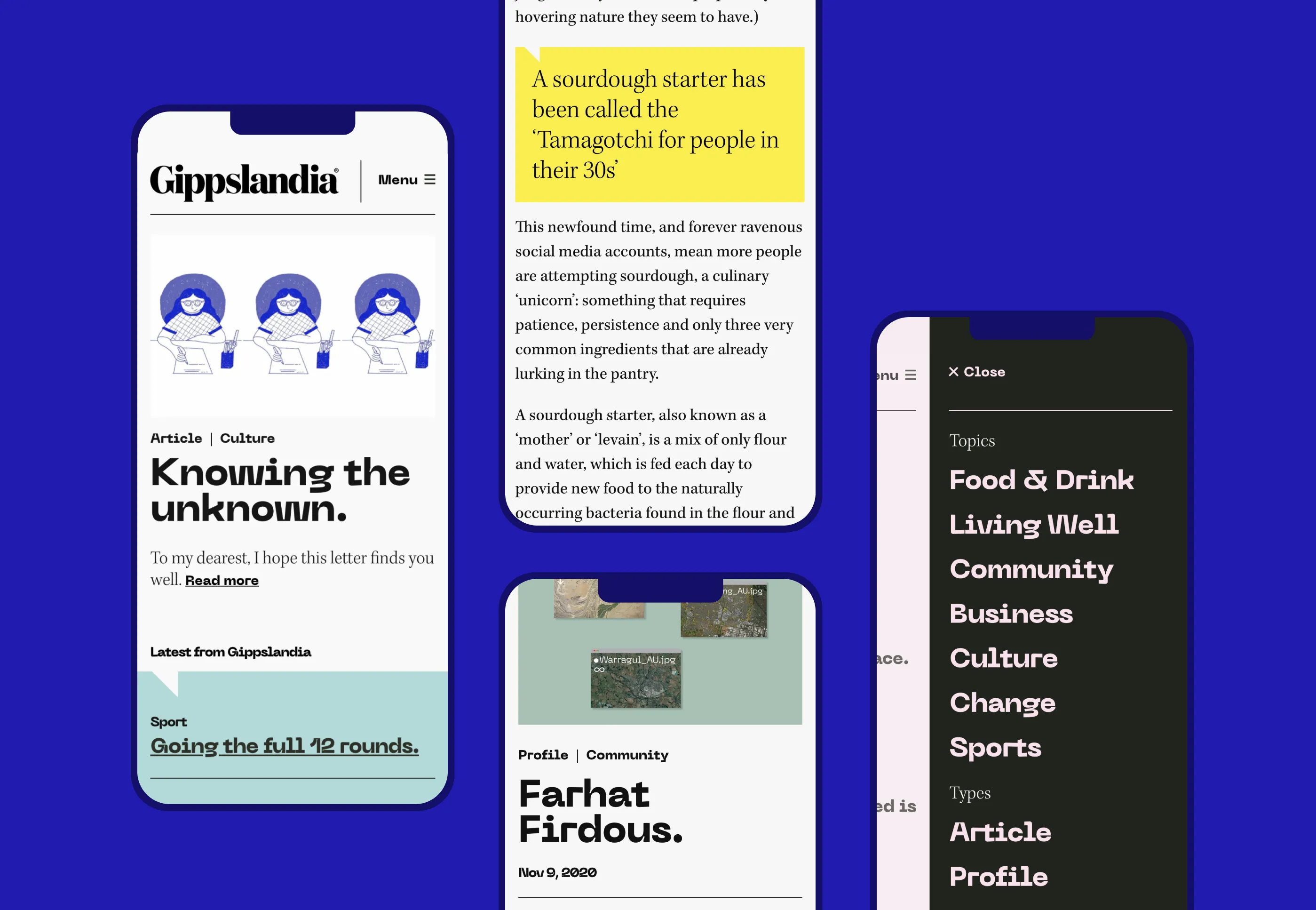 Awards
AGDA Awards
Merit in Digital: Website design
2021
Good Design Awards
Winner in Web Design and Development
2021
Melbourne Design Awards
Gold in Digital: News & information
2021
Get in touch
Want to know more about brand and design systems? Chat to Jacob today.
Jacob Zinman-Jeanes
Design Director
Next Case Study
Kanyirninpa Jukurrpa:
Showcasing Martu people's thriving culture and country